Iran envoy meets Russian security official
January 11, 2023 - 19:38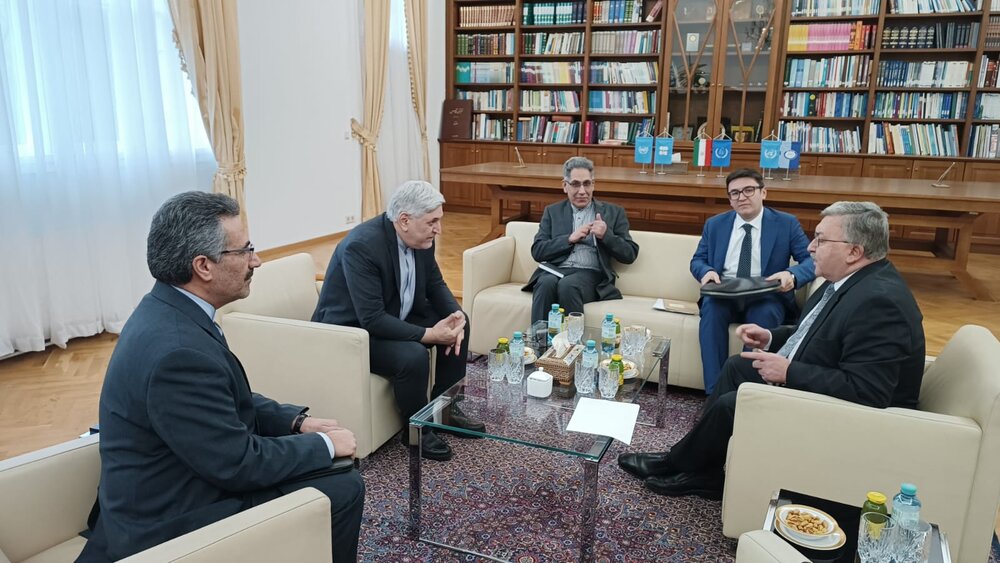 TEHRAN – Iranian Ambassador to Russia Kazem Jalali has met with Alexander Venediktov, the deputy secretary of Russia's national security council.
In their meeting, they discussed ways to strengthen and boost bilateral relations, according to Al Alam.
The meeting also touched upon the issue of following up on the results of the recent visit of Russian Security Council Secretary Patrushev to Iran.
They discussed ways to strengthen bilateral relations in various fields, especially in economic exchange and the issue of the North-South Corridor, and the follow-up of the implementation of previously concluded agreements of understanding, as well as consultations on the latest developments at the regional and international levels.
The two sides agreed to continue the consultations on a regular basis.
Iranian President Ayatollah Ebrahim Raisi has recently hailed Iran-Russia ties as strategic. Speaking in a meeting with the new Ambassador of the Russian Federation Alexey Dedov while receiving his letter of credence, Ayatollah Raisi described Tehran-Moscow relations as "strategic" and emphasized, "Iran and Russia have good grounds for cooperation in bilateral, regional and international fields."
In this meeting, President Raisi referred to the increase in diplomatic interactions between the two countries and emphasized the necessity of forming and strengthening strategic economic cooperation between Iran and Russia, according to the official website of the Iranian presidency.
In the meeting, Ambassador Dedov stated that the continuous increase of all-round economic cooperation is one of the priorities of his mission. He added, "The strategic economic cooperation between Iran and Russia has caused Western countries to despair of the sanctions policy."
Sergey Nikolayevich Baburin, a former member of the Russian State Duma, recently paid a visit to Iran where he met with Ali Akbar Velayati, who is an advisor to the Leader of the Islamic Revolution on international affairs.
In the meeting, Velayati underlined the need to protect regional borders in the South Caucasus region, saying Iran will not accept any changes in that regard.
Velayati and Baburin discussed a number of issues. As regards the situation in the South Caucasus region, Velayati echoed remarks by Ayatollah Khamenei, saying, "The Islamic Republic of Iran would not accept any change in the current boundaries. Undoubtedly, regional security must be maintained."
In a July meeting with Russian President Vladimir Putin, Ayatollah Seyed Ali Khamenei said that Iran will not "tolerate" any change in the Iran-Armenia borders.
"The Islamic Republic will not tolerate policies or plans that lead to the closing of the Iran-Armenia border," he said at the time.