Tehran, Tokyo seek expansion of port, maritime co-op in Persian Gulf
January 25, 2023 - 13:41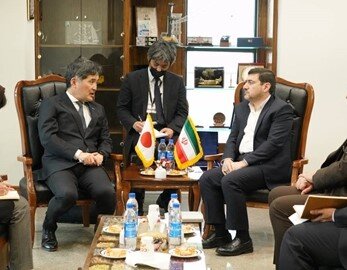 TEHRAN – Head of Iran's Ports and Maritime Organization (PMO) discussed infrastructural, transit, and training cooperation with the Japanese ambassador to Tehran on Tuesday.
During the meeting, Ali-Akbar Safaei and Aikawa Kazutoshi explored ways of developing cooperation in Iranian ports on the coasts of the Persian Gulf, the PMO portal reported.
Pointing to the long history of economic and commercial cooperation between Iran and Japan as two coastal countries, Safaei emphasized the development of infrastructure and transit cooperation and the strengthening of educational activities with Tokyo.
Kazutoshi for his part mentioned a recent visit to Iran's southern Shahid Rajaee Port, emphasizing the strengthening of mutual relations and maritime cooperation.
The ambassador stated that sea-based development is one of the most important aspects of his country's foreign policy, explaining that Japan attempts to expand its ties with other maritime nations through its smart ports.
Japan is interested to invest in Shahid Rajaee port in Hormozgan Province as they had previously negotiated for maritime cooperation in this port.
Shahid Rajaee Port can play an important role in the development of trade in the region as 80 percent of Iran's transit is carried out through this port.
The port has many advantages and capacities including modern container equipment for container ships, access to the railway network, the Bandar Abbas International Airport, and to the high seas.
Shahid Rajaee Port is also important along International North-South Transit Corridor (INSTC) which maintains fast speed and great security for freight transit.
EF/MA
Photo: PMO Head Ali-Akbar Safaei (R) and Japanese Ambassador to Tehran Aikawa Kazutoshi