Abdollahian holds talks with top officials in Tashkent
January 25, 2023 - 23:13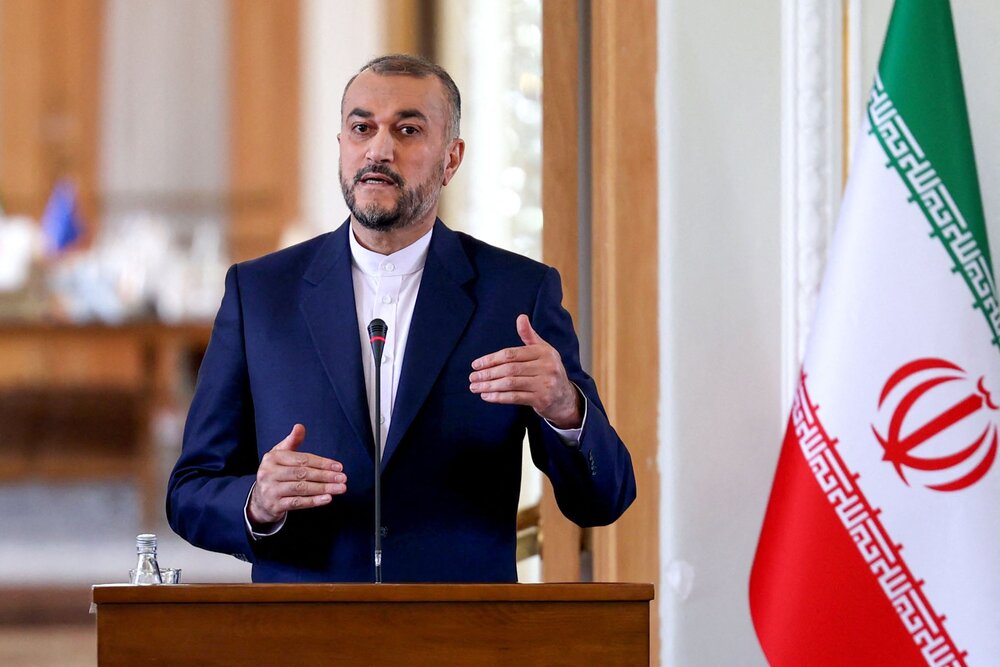 TEHRAN- Hossein Amir Abdollahian, the Foreign Minister of Iran, held separate talks with the other countries' authorities to discuss regional and global issues on the sidelines of the 26th meeting of the ECO Council of Ministers in Tashkent on Tuesday.
In a meeting with Amir Abdollahian, Shavkat Mirziyoyev, the President of Uzbekistan, whose country was a host to the conference, praised Iran's achievements in science and industry and declared that his country is eager to benefit from Iran's expertise in different technological fields.
They both exchanged views over bilateral relations as well as regional and global concerns.
Amir Abdollahian highlighted the meeting's main topics as the Uzbek president's incoming trip to Iran, the Uzbek parliament speaker's trip to Tehran in the upcoming spring, the second meeting of the Joint Security Cooperation Commission in Tehran, and the 15th meeting of the Joint Economic Cooperation Commission of Iran and Uzbekistan.
Additionally, he called for expanding bilateral trade relations.
During a visit by Iranian President Ebrahim Raisi to Samarkand, where he attended a session of the Shanghai Cooperation Organization (SCO) summit in summer, he emphasized the necessity of signing a preferential trade agreement to foster bilateral ties as well as activating the 18 documents signed between the two states, according to the Iranian Foreign Ministry's website.
The president of Uzbekistan welcomed Tehran's official invitation to visit and conveyed greetings to both the Iranian president and Leader of the Islamic Revolution Ayatollah Seyed Ali Khamenei.
He remarked that relations between Iran and Uzbekistan are improving in several areas.
In order to create a roadmap for economic cooperation, the Uzbek president also requested that the foreign ministries of the two nations form a joint committee.
Mirziyoyev also complimented Iran's advancements in science and business despite all the sanctions on the Islamic Republic, stating Uzbekistan is eager to benefit from Iran's priceless experiences in these sectors.
He also stressed the importance of putting the Samarkand agreements into action.
There is a bright future for mutual ties, the Uzbek leader maintained.

Mirziyoyev also stated that the issue of Afghanistan is a shared concern, declaring that the foreign ministers of Afghanistan's neighbors would meet shortly in Tashkent to discuss opinions on the country's condition.
Abdollahian meets his counterparts from Uzbekistan, Azerbaijan
Amir Abdollahian also met his counterparts from Uzbekistan Bakhtiyor Saidov and Azerbaijan Jeyhun Bayramov on the sidelines of the ECO meeting on Tuesday.
They talked about bilateral issues while reviewing the latest regional and international developments.
"Iran prepared to host CICA foreign ministers meeting"
In a meeting on Tuesday, Amir Abdollahian also informed Kairat Sarybay, the secretary general of Conference on Interaction and Confidence Building Measures in Asia (CICA), that Iran is prepared to host a meeting of CICA foreign ministers within the next three months.
Tehran places a high value on the CICA, he added.
Amir Abdollahian noted that there has been an increase in bilateral collaboration as seen by the Iranian president's attendance at the Astana Summit and support for the ratification of CICA.
For his part, Sarybay stressed that Iran is a significant member of the group and participates constructively in its decision-making processes.
He further stated that the CICA Secretariat accepts the request by Tehran to host a meeting of foreign ministers as an essential step and does so with an open mind.
Iran willing to establish joint ventures in Tajikistan's free trade zones
In a meeting with Sirojiddin Muhriddin, the Foreign Minister of Tajikistan, Iran's foreign minister also expressed Tehran's willingness to establish joint ventures in Tajikistan's free trade zones and provide the Central Asian country services from knowledge-based firms.
The two top diplomats spoke about regional and global issues of shared interest as well as plans to strengthen bilateral ties.
Amir Abdollahian identified the extensive cultural similarities between the Iranian and Tajik people as the most important foundation for cementing connections and advancing cooperation in all areas.
Additionally, he expressed his delight over rising interactions, particularly in cultural fields.
The senior Tajik diplomat, for his part, noted that bilateral relations are at a very high level and that he was pleased with the two nations' deepening relationship.
He expressed optimism for a trip by Iranian President Ebrahim Raisi to Tajikistan this year, saying that reciprocal tours by officials of the two countries had strengthened ties.
Iran FM expresses optimism about free trade deal with Pakistan
Iran's foreign minister also expressed optimism about completion of a free trade deal with Pakistan, which he noted would considerably improve commercial exchanges between the two countries.
Amir Abdollahian and Bilawal Bhutto Zardari of Pakistan had discussions on a range of topics of shared interest in the bilateral, regional, and global spheres.
The senior Iranian diplomat stressed that Tehran always feels obligated to support and help the brotherly nation of Pakistan in difficult times and expressed condolences with Pakistan over the summer flood in that country.
The Pakistani foreign minister, for his part, praised the country's close ties with Iran.
He emphasized Iran's importance in his country's foreign policy and remarked that collaboration between the two countries is in the interests of both countries and the South Asia region.
Ministers and representatives from the ECO members - Azerbaijan, Kyrgyzstan, Kazakhstan, Turkey, Azerbaijan, Pakistan, Iran, and Uzbekistan - attended the ECO foreign ministers conference.
Once a year, one of the members hosts the ECO foreign ministers conference.
The presidents of Iran, Pakistan, and Turkey established the Economic Cooperation Organization (ECO), an Asian political and economic intergovernmental organization, in Tehran in 1985.
It offers a forum for talking about how to advance growth and advertise investment and venture possibilities.