By Ali Karbalaei
China has a peace plan for Ukraine, what is the U.S. afraid of? 
February 23, 2023 - 8:9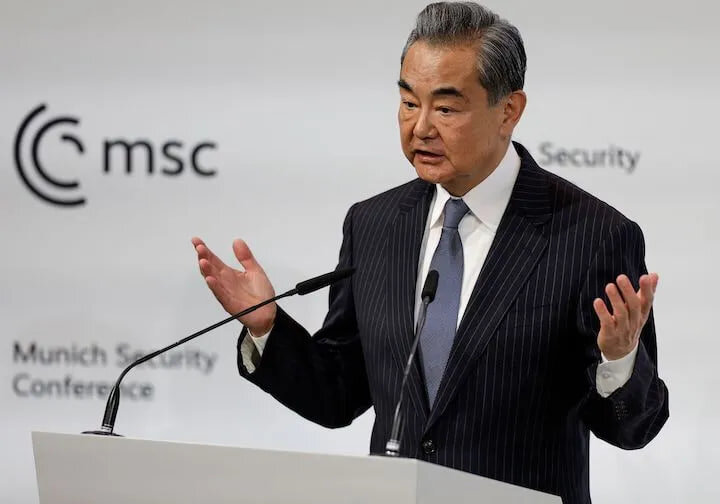 As Friday marks the first anniversary of the Ukraine war, Beijing's peace initiative has been met with suspicious Western skepticism.
China has now warned western countries against "adding fuel to the fire" in Ukraine, saying the time has come to take a different approach for the sake of international peace and stability.
Last year, Chinese President Xi Jinping put forward the Global Security Initiative (GSI), which he said is aimed to create a new path to security that features dialogue over confrontation.
Beijing says the initiative will provide a new approach to addressing the root causes of international conflicts and solve security challenges facing humanity.
The GSI will be the theme of China's peace plan to end the Ukraine war.
The country's foreign ministry provided further details about the new proposal.
Spokesperson Wang Wenbin says it "lays out 20 priorities of cooperation in response to the most significant and pressing international security concerns at present."
These include "upholding the UN's central role, facilitating political settlement of hotspot issues, tackling traditional and non-traditional security challenges and strengthening the system and capacity for global security governance."
China's Wang says "the wars and military operations launched by the U.S. in the name of fighting terrorism have claimed over 900,000 lives and created 37 million refugees around the world."
The paper that China will publish also identifies new platforms and mechanisms of cooperation.
On seeking political settlement of the Ukraine crisis, Wang Yi, China's Director of the Office of the Central Foreign Affairs Commission, says, "The document will reaffirm President Xi Jinping's important propositions, including respecting the sovereignty and territorial integrity of all countries, upholding the purposes and principles of the UN Charter, taking seriously the legitimate security concerns of all countries, and supporting all efforts conducive to a peaceful resolution of the crisis. These are consistent with the concept and principles laid out in the GSI. There will be more on this in due course."
He noted that so far more than 80 countries and organizations have praised and expressed support for the GSI, adding China is "convinced that with the release of the concept paper, more and more countries and organizations will join" the initiative.
Senior Chinese officials say Beijing will start organizing regular meetings of foreign, defense and interior ministers from countries affiliated with the GSI.
As the war in Ukraine drags on, Beijing's plan offers a new course to end it by addressing the root causes of the fighting by calling for mutual respect, openness and inclusion, multilateralism, mutual benefit as well as satisfactory results for all parties to the conflict.
The GSI is part of China's broader effort to safeguard world peace and security with the country pointing out it is ready to work with all parties to achieve this goal.
As the U.S. and NATO once again appear clueless on how to end another conflict they have instigated, China is saying it's time to take practical and effective measures as the world enters a period of uncertainty and transformation.
The diminishing U.S.-led world order, needless to say, has failed the international community in achieving peace and security.
Washington's colonial rule around the world, with its record number of military bases, has brought nothing other than global instability, insecurity, a sharp rise in terrorism in addition to its disregard for international rules and order.
Beijing's new initiative will be viewed by Washington as posing an indirect threat to U.S. hegemony despite China's call on all international parties to sit around the table and talk rather than fight.
Beijing's initiative is expected to be officially published under the title "Concept Paper of the Global Security Initiative", reportedly around the February 24 anniversary of the Ukraine war.
It is not surprising that the U.S. and some of its Western allies have launched a fresh smear campaign against China in a bid to limit or even bring an end to the popularity of its peace plan.
"China-Russia comprehensive strategic partnership of coordination is built on the basis of non-alliance, non-confrontation and non-targeting of any third party."

After all, peace is the last word on the minds of U.S. foreign policymakers.
Over the past week or two, the Pentagon's dramatic and videoed shutdown of a Chinese weather balloon that strayed into U.S. airspace and which Washington labelled as a spy object, was just the tip of the iceberg.
Then came the statements, out of nowhere, but suspiciously coinciding with China's peace efforts for Ukraine.
It is fair to say the US, the UK, NATO, and the EU have launched a massive information war to damage Russia's international reputation by initially silencing Russian media outlets, thereby having only one narrative about the conflict for their domestic audiences: A Western narrative.
And so any party linked with Russia in its war with Ukraine and the U.S.-led NATO military alliance would be an easy target for the U.S. and NATO to publicly condemn.
This is despite the fact that many experts say Russia has stood alone in fighting the U.S. and NATO, with Ukraine being used as a proxy.
Nevertheless, out of the blue, U.S. Secretary of State Antony Blinken declared that China is "strongly considering" providing Russia with "lethal assistance".
"We've seen already over these past months the provision of non-lethal assistance that does go directly to aiding and abetting Russia's war effort," Blinken said.
He added that further information indicates that Beijing is considering providing "material support to Russia's war effort that would have a lethal effect."
U.S. Vice-President Kamala Harris said Washington was "troubled that Beijing has deepened its relationship with Moscow."
Washington's Ambassador to the United Nations Linda Thomas-Greenfield also warned that China would face "consequences" if it provided lethal aid to Russia.
NATO Secretary General Jens Stoltenberg, as is the norm now, echoed U.S. statements?, saying "we are also increasingly concerned that China may be planning to provide lethal support for Russia's war."
"We are providing support to Ukraine, unprecedented support. We step up and deliver more heavier, more advanced weapons," Stoltenberg said.
Speaking to U.S. media, he also alleged that China is closely watching Russia's success in Ukraine, with the outcome of Europe's war likely to have wide-reaching implications for Beijing's behavior in Asia-Pacific.
"Beijing is watching closely what's going on in Ukraine. And if Putin wins there, of course, that will impact their decisions on how to behave in Asia," Stoltenberg told U.S media.
Senior EU official Josep Borrell also said that if China sent arms to Russia, this would be a "red line".
Beijing has slammed the statements, saying these are all unfounded allegations.
China's top diplomat says the "China-Russia comprehensive strategic partnership of coordination is built on the basis of non-alliance, non-confrontation and non-targeting of any third party, which is within the sovereign right of any two independent states. We do not accept the U.S.'s finger-pointing or even coercion targeting China-Russia relations."
He added that "the U.S. should seriously reflect on what it has done, stop fanning the flames or profiting from it, and stay truly committed to promoting peace talks as China has been doing."
The Chinese foreign ministry also responded by accusing the U.S. of being the biggest source of weaponry for the battlefield in Ukraine.
"The U.S. side announced a further $500 million worth of military aid to Ukraine. It makes people wonder what the U.S. is up to by falsely claiming that China is offering weapons, and whether the U.S. finds it conscionable to tell the world it wants peace and yet sit and watch its defense industry lining up their pockets. We all saw what the U.S. did in Afghanistan with its strategy of 'fighting to the last Afghan'. Does it now want Ukraine to 'fight till the last Ukrainian'?"
U.S. President Joe Biden, in a surprise visit to Kyiv, announced a fresh military package for Ukraine with advanced weapons. including HIMARS rocket launchers.
Washington has shipped tens of billions of dollars worth of weapons to the warzone.
Western leaders have in general reacted with scepticism to China's peace announcement in public. It remains to be seen how different European governments accept the initiative.
Blinken, who apparently speaks for the West, has declared that the West is skeptical of the Chinese peace initiative that called for an immediate ceasefire.
The U.S. reluctance to entertain China's peace plan and denouncing the country as a whole saw Beijing hit back with Wang saying "the U.S. abuses its political hegemony and is used to throwing its weight around ... it has been creating division and stoking confrontation all over the world."
He added "the U.S. abuses its military hegemony with wanton use of force. From Afghanistan to Iraq and Syria, since 2001, the wars and military operations launched by the U.S. in the name of fighting terrorism have claimed over 900,000 lives and created 37 million refugees around the world."
He lashed out at Washington once more, accusing the U.S. of abusing "its economic hegemony featured by looting and exploitation. From abusing its control over international economic and financial organizations, to willfully suppressing its opponents with coercion and doubling down on unilateral sanctions and 'long-arm jurisdiction', the U.S. claims to uphold fairness and justice, but all it ever cares about is how to advance its selfish interests."
Germany, once Europe's economic powerhouse and now the worst hit by the Ukraine war, signaled a warmer stance on the Chinese peace plan.
German Foreign Minister Annalena Baerbock said of the Chinese proposal that "we have to exploit every chance for peace". She added, "It's good?.?.?.?that China sees it as its responsibility, as a member of the UN Security Council, to stick up for world peace."
In a sign of just how fragile and paranoid the U.S. has become, it is viewing the mere proposal of a peace plan to end the Ukraine war as a move that could cause division between the U.S. and its European allies.
At the end of the day, it's Western Europe that has suffered the most from the breakout of the conflict, with households and public workers protesting and taking action against record inflation levels.
This is while voters are toppling governments in Western Europe one by one as a result of the cost of living crisis brought on by the Western sanctions imposed on Russia.
This is while U.S. arms manufacturers, politicians and energy firms that are making massive profits from the ongoing war.
As Beijing notes there are more than enough facts to show the true nature of the U.S. as a source of trouble rather than a "defender of peace" for the world.
As China's foreign minister Wang Yi talks about the necessity for peace on his trip to Europe, American officials are planning their next arms shipment to the continent.