Iran power past Bahrain at 2023 AFC Beach Soccer Asian Cup
March 22, 2023 - 20:9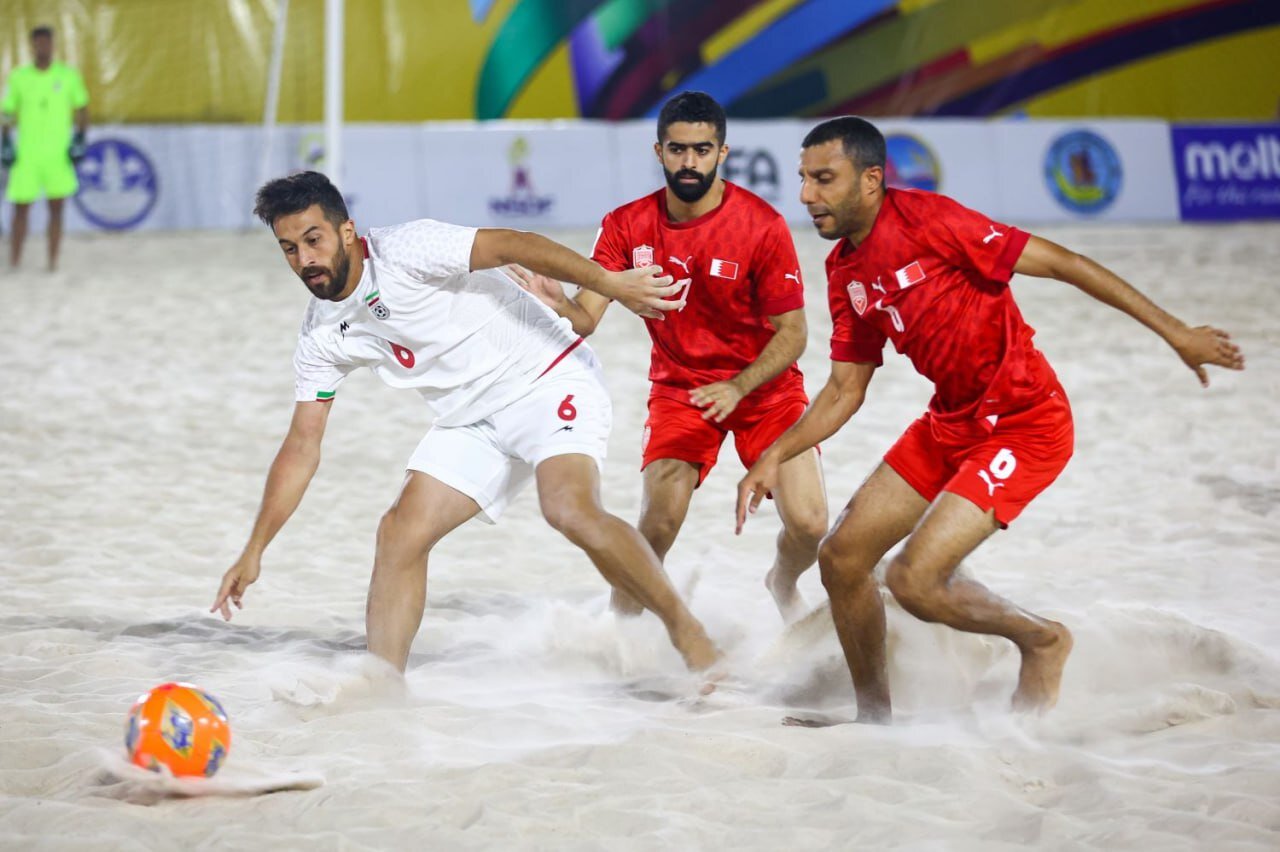 TEHRAN - Iran produced a sparkling display to defeat Bahrain 10-0 in their AFC Beach Soccer Asian Cup Thailand 2023 quarterfinals on Wednesday.
Iran will face either Oman or China in the semifinals on Saturday.
Iran took the game to Bahrain from the referee's first blow of the whistle with Mohammad Mofradi forcing a fingertip save from Bahraini keeper Mohamed Ashoor.
Iran showed their class with a ninth minute goal, a move which was orchestrated by keeper Mahdi Mirjajili's deep ball to Ali Mirshekari, who set up Moslem Mesigar to nod home from close range.
Ashoor came close to putting his side level in a one-on-one situation but the Bahraini captain fired his shot straight to Mirjajili, who parried the ball to safety.
Bahrain were then left stunned in the 11th minute when Iran scored their second out of nothing when Mohammad Moradi threaded down the left before finding space at the center to slot a fierce grounder past Ashoor.
Bahrain had no answer to Iran's aggression as they fell further behind in the second half with Mesigar striking a low volley past Ashoor in the 15th minute before Mirjajili showed off his juggling skills before hitting a powerful drive into the bottom left corner of the net.
Iran's Mohammadali Mokhtari then scored with an acrobatic effort in the 20th minute, finishing of Mahdi Shirmohammadi's set-up to go 5-0 up going into the break.
Iran were relentless in the third half as Amir Akbari etched his name on the scoresheet by slamming home a free-kick from distance in the 27th minute before Mirjajili added another after the ball took a cruel bounce off the sand over Ashoor and into the back into the net.
It was Mirshekari's turn to get into the goal action when he struck from a free-kick in the 33rd minute before Abdulla Alabdulla scored an own goal moments later as Iran announced their entry into the semi-finals in style.
Source: the-afc