IRGC tests rocket having thermobaric warhead
May 7, 2023 - 20:57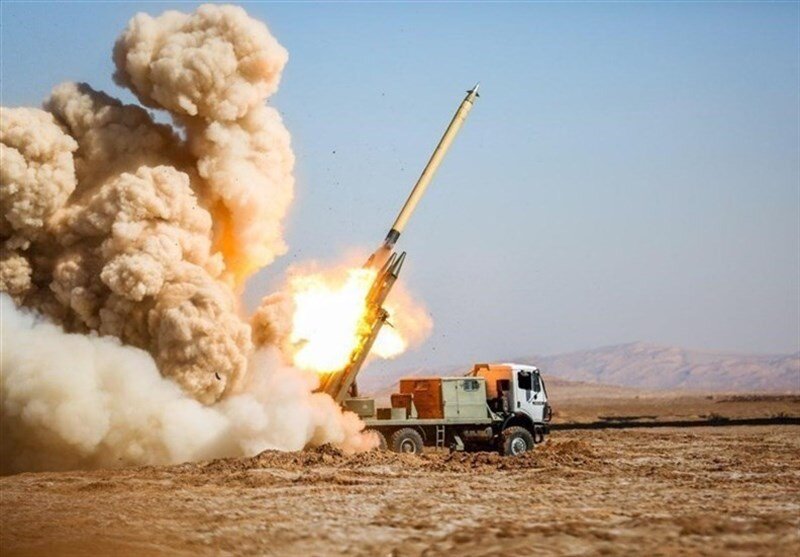 TEHRAN- An indigenous rocket with a thermobaric warhead has been successfully tested by the Islamic Revolution Guards Corps Ground Force (IRGC), Tasnim reported on Sunday.
The "Fajr-5" rocket now has a thermobaric warhead according to experts from the Research and Self-Sufficiency Jihad Organization of the IRGC Ground Force.
The guided variant of the 333 mm rocket Fajr-5, known as "Fajr-5C," has already been delivered to the IRGC Ground Force units.
The destructive capability of the Iranian rocket has grown thanks to the new thermobaric warhead, which creates a high-temperature explosion by using oxygen from the surrounding air.
According to reports, the new warhead's destructive capability is 1.5 times stronger than that of trinitrotoluene (TNT), increasing the explosion radius and heat effect of the rocket.
Because the thermobaric explosive is less sensitive than TNT, it is a safer alternative than conventional warheads.
After being given to the Palestinian resistance groups, the Fajr-5 rockets gained prominence.
They were utilized throughout the conflict, when the Zionist regime attacked the Gaza Strip in 2012.
At the time, it was reported that Hamas troops had triumphed over the Israeli regime's Iron Dome air defense system with Fajr rockets.
The enhanced thermobaric warhead features would also make the Fajr-5 rocket a useful weapon for combating terrorist groups in hilly and inaccessible places where terrorists build shelters and trenches.
The Fajr-5 ground-to-ground rocket is the most sophisticated and longest-range version of the three classes of Fajr rockets, each with a unique use.
The single-stage and two-stage solid fuel 333 mm rockets have a range of 75 km and 180 km, respectively.
According to the commander of the Iranian Army Air Defense Force, this year will see the introduction of new domestically produced weapons.
During a ceremony on Sunday honoring the teachers in the Iranian Army Air Defense, Brigadier General Alireza Sabahi-Fard said that "the greatest component of the Army is education, so with training, we will gain significant achievements in the air defense force."
General Sabahi-Fard underlined the need for all army soldiers to get training so that everyone may benefit from the significant accomplishments of the Air Defense Force
"After the Islamic Revolution's victory, our training reached such a level that all the power equipment is indigenous and entirely made in Iran," he asserted.