Tehran museum puts relics recovered from smugglers on display
May 24, 2023 - 17:35
TEHRAN – Over 400 ancient artifacts recovered from smugglers are on view at the National Museum of Iran in downtown Tehran.
A total of 434 historical objects that Iranian police have recovered from smugglers in the provinces of Tehran and Isfahan have been put on show at the National Museum of Iran, ISNA reported on Wednesday.
The relics have been selected from some 19,000 relics recovered in the past Iranian calendar year, which ended on March 21, the report said.
Potteries, earthen vessels and personal ornamentations are among the objects on show at the exhibit that comes to an end on May 25.
Chock-full of priceless objects showcasing the juicy history of the nation, the National Museum showcases ceramics, pottery, stone figures, and carvings, mostly taken from excavations at Persepolis, Ismail Abad (near Qazvin), Shush, Rey, and Turang Tappeh to name a few.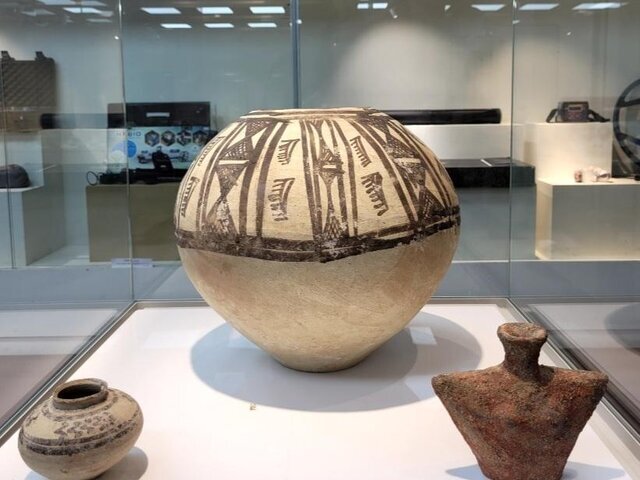 The museum's main building, designed by French architect André Godard and completed in 1928, is one of the more attractive modern buildings in Tehran, blending Sassanian principles such as the grand iwan-style entrance with art déco–style brickwork.
Inside, among the finds from Shush, there's a stone capital of a winged lion, some delightful pitchers and vessels in animal shapes, and colorful glazed bricks decorated with double-winged mythical creatures. A copy of the diorite stele detailing the Babylonian Code of Hammurabi, found at Shush in 1901, is also displayed – the original being in Paris.
The first well-documented evidence of human habitation in the Iranian plateau was found from several excavated cave and rock-shelter sites, located mainly in the Zagros Mountains of western Iran and dated to Middle Paleolithic or Mousterian times (c. 100,000 BC).
From the Caspian in the northwest to Baluchistan in the southeast, the Iranian plateau extends for close to 2,000 km. The land encompasses the greater part of Iran, Afghanistan, and Pakistan west of the Indus River containing some 3,700,000 square kilometers. Despite being called a "plateau", it is far from flat but contains several mountain ranges, the highest peak being Damavand in the Alborz mountain range at 5610 m, and the Dasht-e Loot east of Kerman in Central Iran falling below 300 m.
AFM