French, Iranian artists top at Holocaust cartoon contest
May 31, 2016 - 19:8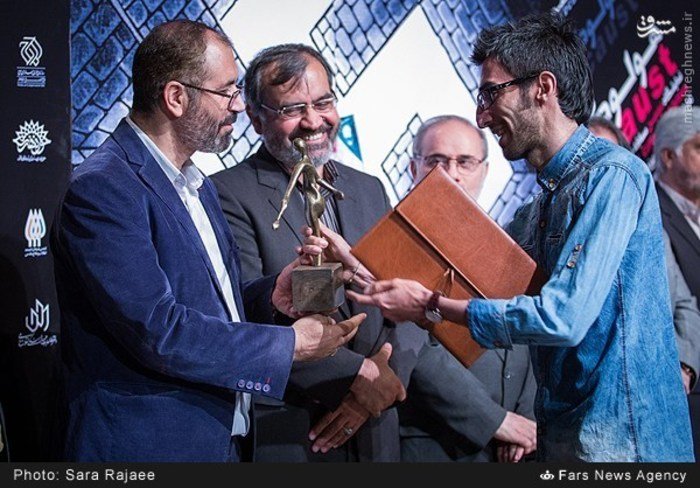 TEHRAN -- French cartoonist Zeon, who was arrested for his anti-Zionist work in March 2015, and Iranian artist Arash Forughi have won first prizes at the 2nd International Holocaust Cartoons Contest in Tehran.
Zeon was awarded a cash prize of $12,000 in the cartoon section and Forughi received a cash prize of $7,000 in the caricature category during a ceremony held at the Art Bureau on Monday.
Speaking at the ceremony, the secretary of the competition, Masud Shojaei-Tabatabai said, "One of the subjects we asked cartoonists to focus on was why the Western countries arrest any scholar who doubts the Holocaust while they put no limit on freedom of speech in other categories."
"The other subject was why Palestinians should pay for the Holocaust… we are concerned about the modern Holocaust that is being sought by the Zionist regime, which is known as a child killer government," he added.
In the cartoon section, the second prize went to Jitet Koestana from Indonesia while the third prize was presented to Mahmud Nazari from Iran.
Iranian cartoonist Hadi Asadi received second prize in the caricature section while India's Pamarthy Shankar, the winner of the Grand Prix World Press Cartoon Award in 2015, won third prize.
Luc Descheemaeker from Belgium, Jalal Hajir from Morocco, Hicabi Demirci from Turkey and several other artists also won honorable mention.
Iran's House of Cartoon and the Sarcheshmeh Cultural Complex organized the second edition of the contest.
An exhibition displaying a selection of submissions to the contest was also held at the Art Bureau from May 14 to 30.
Photo: A cartoonist receives an award from Art Bureau Director Mohsen Momeni (L) during the closing ceremony of the 2nd International Holocaust Cartoons Contest in Tehran on May 30, 2016. (Fars/Sara Rajai)
MMS/YAW
END