Araqchi says U.S. administration should meet its obligations regardless of what Congress does
No negotiations if nuclear deal is violated, Iran warns
July 17, 2016 - 21:33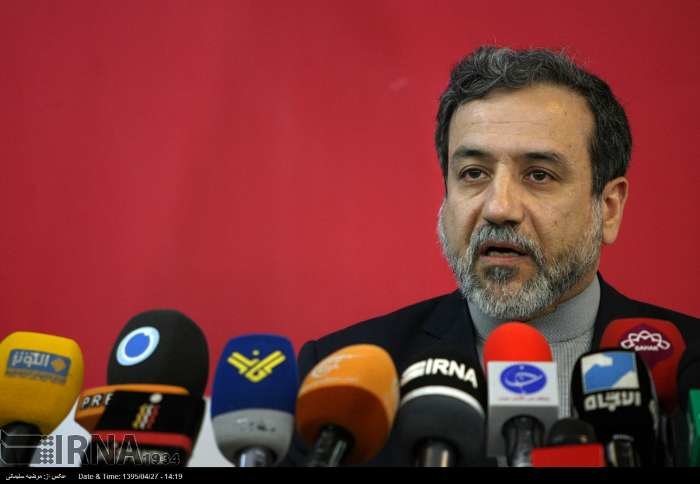 TEHRAN – Iranian Deputy Foreign Minister Abbas Araqchi said on Sunday the JCPOA is the "final document" and Iran will abide by this international agreement but there will be no other negotiations in case the pact is violated by the other side.
Iran's nuclear activities will be returned to the pre-nuclear deal situation if the other side violates the terms of the agreement, Araqchi asserted.
He also said that the U.S. government should meet its obligations regardless of Congressional moves.
"The U.S. government is duty bound to implement the JCPOA. The U.S. government should prevent any action that leads to violation of the JCPOA and any action that could stop successful implementation of the JCPOA and we don't care what action the Congress takes," the leading diplomat underlined.
Iran and the 5+1 group - the United States, Britain, France, China and Russia plus Germany - finalized the text of the JCPOA in Vienna on 14 July, 2015.
On July 20, 2015, the UN Security Council turned the JCPOA into international law by endorsing a resolution, setting the stage for the lifting of the Security Council sanctions against Iran.
The deal went into effect on January 16, 2016.
Araqchi who played a key role in negotiating the nuclear agreement with great powers also said the removal of sanctions was important to Iran, but it was not the only demand of the country.
"The issue of removing sanctions is undoubtedly very important in implementing the JCPOA and was definitely one of the objectives we sought in the talks; however, we should not forget that removal of sanctions was not our only demand," he said in a press conference.
Araqchi, the deputy foreign minister for legal and international affairs, said that Iran's "main demand" in the nuclear negotiations was "recognition" of its right to "nuclear technology" which has been achieved.
He also said according to the nuclear deal, only the nuclear related sanctions will be removed and lifting of non-nuclear sanctions were not discussed during the talks.
Araqchi also said that economic achievements have been made since the nuclear deal went into effect in mid-January.
The situation has been normalized in the areas of energy, transportation, industry and business, however, there are still some problems in financial and banking areas, he remarked.
Sale of heavy water
On sale of heavy water, he said that Iran is negotiating with Russia to sell 40 tons of heavy water to the country.
NA/PA