By Maryam Qarehgozlou 
Iran, France to boost environmental co-op
August 28, 2016 - 17:51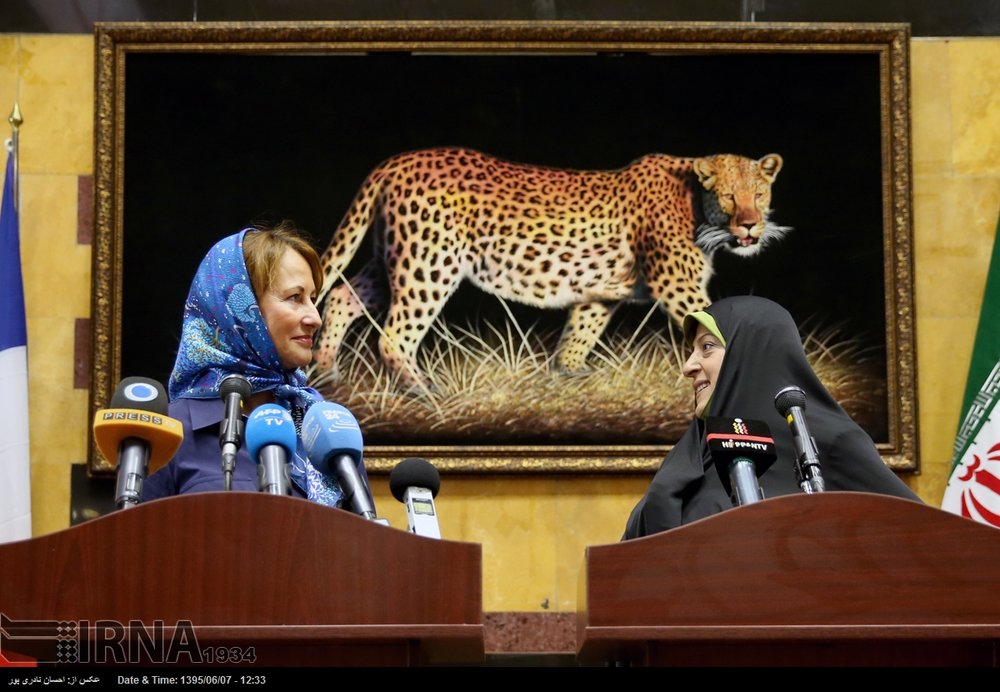 TEHRAN — Iran and France are seeking active environmental cooperation, the chief of the Iranian Department of Environment (DoE), Masoumeh Ebtekar, said.
"We are making arrangements for further cooperation on combatting dust storms, energy management and water efficiency," Ebtekar explained.
Ebtekar made the remarks over a joint press conference with the French Minister of the Environment, Energy and Marine Affairs, Ségolène Royal, here on Sunday.
"The French minister has come to Iran at my invitation and we have discussed bilateral and multilateral cooperation following a memorandum of understanding signed over President Hassan Rouhani's trip to France," she added.
Mentioning the upcoming 16th International Environment Exhibition scheduled to be held on February 25 to 28, Ebtekar stated that through the negotiations with the minister French companies both in private and public sector are willing to attend the event.
Moreover, she added, some companies active in the field of water and energy have accompanied the French minister to Iran and have held talks; "we will follow up on their proposals both in the private and public sector."
"Ms. Royal's trip to Iran indicates French government strong will to cooperate with Iran environmentally and pass on a message to the world of how countries can collaborate on environmental issues that concern them," Ebtekar suggested.
Royal, who is also appointed COP21 President, for her part, hailed Iran on signing Paris deal in April 22 and taking action on adopting it in the parliament.
She also stated that the Paris deal can contribute to economic growth and more job opportunities.
"Great private companies are accompanying me in this trip and we have selected these companies based on the challenges Iran is facing in the field of water, energy and air quality," she noted.
Commenting on the 16th International Environment Exhibition in February she also asked for a pavilion for French companies to attend the event.
She went on to say that an Iranian delegation will travel to France in October to talk specifics on the upcoming exhibition.
Enquired about her trip to Lake Urmia Royal noted that Iran has taken some extraordinary measures to improve the lake's condition such as reforming farming techniques and growing less water intensive crops, adding, it is vital to cut back on the amount of pesticides used in agriculture sector.
Elsewhere in her remarks the French minister said that Iran has astonishing natural heritage, 20 of which are already registered as World Heritage Sites.
Royal entered Iran on Saturday and is scheduled to visit with Energy Minster and Tehran University chancellor and take a trip to Lake Urmia. She is also going to visit Isfahan to see some of its world renowned attractions.
MQ/MG