Velayati seeks closer Iran-Russia co-op in Syria
December 18, 2016 - 20:1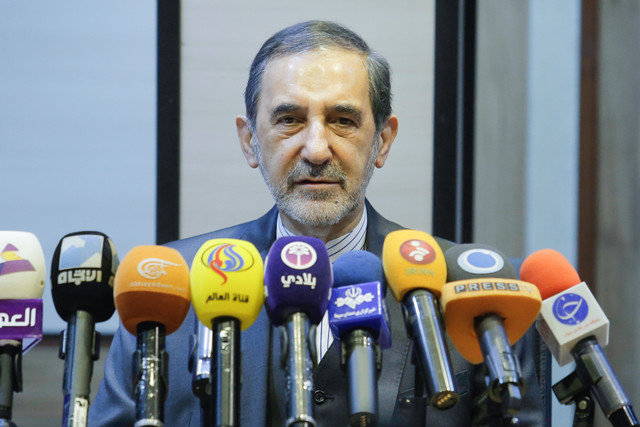 TEHRAN – Ali Akbar Velayati, the senior foreign policy advisor to the Leader, has underlined the necessity for further cooperation between Iran and Russia to help the Syrian government in fighting terrorism, ISNA reported.
The fast pace at which the region goes through necessitates a close cooperation between Iran and Russia as two countries that support the Syrian government and people, said Velayati after a meeting on Sunday with Alexander Lavrentiev, President Putin's special envoy in Syria.
Velayati noted that Aleppo's victory is important but "not enough" because the foreign-backed armed insurgents have infiltrated various areas of Syria, including Tadmur, Palmyra, Raqqa and Deir ez-Zor.
"Therefore, the next steps should be taken [immediately], and these consultations between Iranian and Russian officials are necessary as they would lead to more harmony between international and regional defense issues," Velayati said.
The senior Iranian official also said that the defense and foreign ministers of Iran, Russia and Turkey will meet in Moscow to study the situation in Syria.
"Before the [Moscow] meeting, the Russian president's special envoy would brief Iran on key issues," he added.
Velayati pointed out that the continuation of cooperation between Iran and Russia is necessary, because "Europe, America, their mercenaries in the region, and even the United Nations can foil such victories."
"For instance, when the insurgents are leaving Aleppo, they cry out for humanitarianism and America's envoy to the United Nations hypocritically sheds crocodile tears [for Syria]."
This is while, Velayati said, the insurgents have persecuted and beheaded the citizens of Aleppo.
Lavrentiev also met with Iran's Supreme National Security Council Secretary Ali Shamkhani on Sunday.
During the meeting, Shamkhani hailed the Syrian Army for the liberation of the strategic city of Aleppo, saying that Iran, Russia and the resistance movement were supporting the Syrian government in the operation to retake the city.
"The liberation of Aleppo, once again, exposed the policies of the West and their regional allies in creating and supporting terrorism," the security official remarked.
Shamkhani, who is also in charge of political, military and security coordination between Iran and Syria as well as Iran and Russia, condemned the Western media outlets as well as Arabic, and Hebrew language media for their propaganda in reporting the Syrian conflict.
He also pointed to the successful experience of cooperation among Iran, Russia, and Syria in fighting terrorists, adding, "Due to increased political and military complexities of the Syrian crisis and the necessity to adopt joint actions to manage what lies ahead, increased consultations among the three countries at different levels is unavoidable."
Lavrentiev, for his part, outlined Russian government's viewpoints on ways to develop military, security, and political coordination in Syria.
MH/PA