By Maryam Qarehgozlou
Massive funeral for hero firemen
January 30, 2017 - 18:11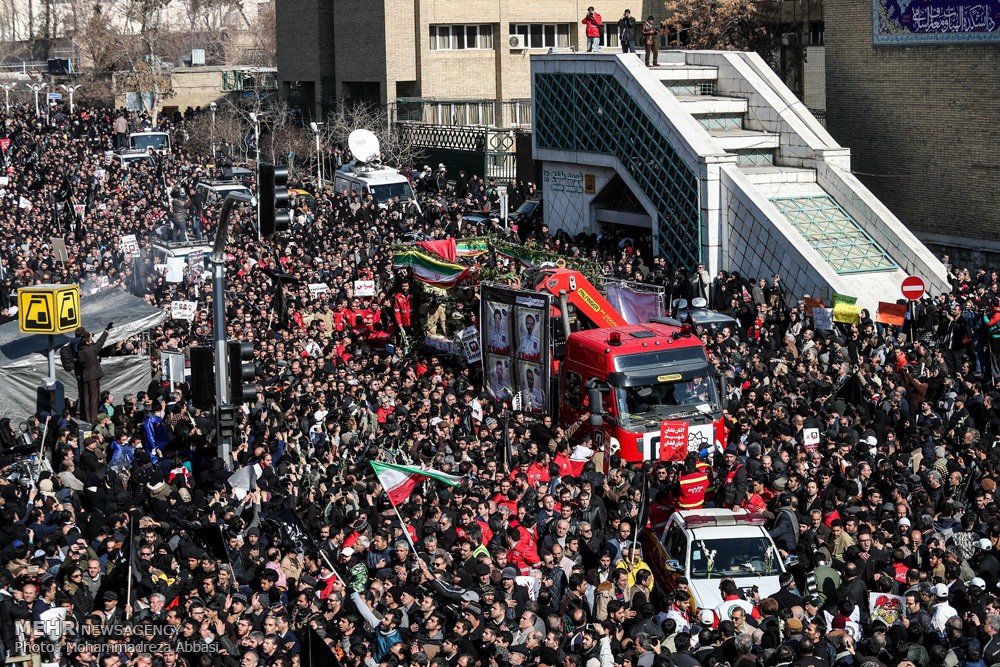 TEHRAN — The sixteen firefighters who had lost their lives eleven days ago in the Plasco building disaster were gloriously laid to rest on Monday.
Despite the cold weather in Tehran, a huge mourning crowd from all walks of life and all aging groups - ranging from elders who walked with cane to children accompanying their parents, men and women who had to ditch their jobs and high-ranking officials - attended the funeral ceremony.
After saying the prayer, held at the Imam Khomeini Mosalla in central Tehran, the flood of people holding placards with pictures of the firefighters and tearful eyes escorted the bodies.
Free-of-charge public transport was available to the people and many showed up at the graveyard (Behesht-e-Zahra cemetery) to take part in the burial service.
First Vice President Es'haq Jahangiri, Intelligence Minister Mahmoud Alavi, Health Minister Hassan Qazizadeh-Hashemi, Transport and Urban Development Minister Abbas Akhundi, Imam Khomeini Relief Foundation CEO Parviz Fattah, Tehran Mayor Mohammad-Baqer Qalibaf, Tehran City Council Chairman Mehdi Chamran, and some members of the Guardian Council and parliament were among those attending the funeral procession.
On January 19, the 17-story Plasco shopping center was smashed to pieces by a blazing fire and trapped 15 firefighters and a number of civilians under piles of rubble. However, after nine days of incessant search through the debris bodies of the firefighters and some of the civilians were found. Another firefighter, Behnam Mirzakhani, passed away at the hospital due to the severe burns he sustained on the day the iconic building burnt down.
MQ/MG/PT