Iran unveils newest achievements on Space Technology Day
February 1, 2017 - 20:21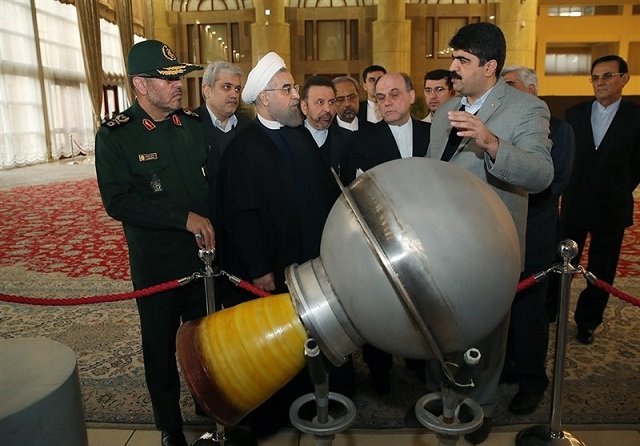 TEHRAN – On Wednesday Iran unveiled its latest achievements in the field of space technology during a ceremony marking the ninth National Space Technology Day.
President Hassan Rouhani attended the ceremony during which two satellites named Payam-e Amirkabir and Nahid 1, as well as an orbital maneuvering system named Saman-1 were put on display.
Minister of Science, Research, and Technology Mohammad Farhadi and Defense Minister Brigadier General Hossein Dehqan were also present at the event.
During the exhibition, Rouhani was briefed by engineers and experts on the achievements of the country's space technology.
Nahid 1 is Iran's first communications satellite manufactured at Iran's Space Research Center. It has been designed to provide telecommunication and imaging services.
Built by Amirkabir University of Technology, Payam-e Amirkabir was also unveiled at the exhibition. The homegrown satellite is able to take surveying images at resolutions below 40 meters.
Another major achievement of the space technology is Saman-1, a system for controlling the orbital transition of satellites.
Speaking at the ceremony, Rouhani called for further self-sufficiency in developing the space technology.
He emphasized that the country needs to tap domestic potential and benefit from international experience as well.
The president also said that space technology is a source of power for the Islamic Republic.
Space technology brings authority to the country, he said.
In recent years, Iran has made great technological advances in manufacturing satellites. In February 2009, the Islamic Republic launched into the orbit its first homegrown data-processing satellite, dubbed Omid (Hope).
In January 2013, Iran sent a monkey to an altitude of about 120km (75 miles) in a Pishgam (Pioneer) rocket for a sub-orbital flight before returning intact to Earth.
Iran also sent another monkey into space at the end of 2013, as part of a program aimed at manned space flight.
MH/PA