'Iran unhappy with Pakistani gen. heading Saudi-led counterterror alliance'
April 4, 2017 - 19:31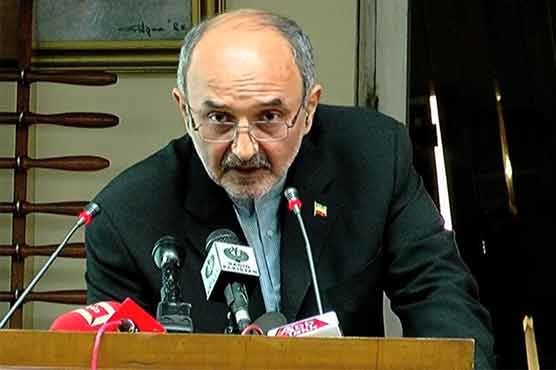 TEHRAN – Iranian Ambassador to Islamabad Mehdi Honardoost has voiced Tehran's misgivings on the appointment of Pakistan's former army chief General Raheel Sharif as the commander of the 39-nation Islamic Military Alliance, warning it may impact unity among Muslim countries.
Last week, Islamabad approved the appointment of Sharif to lead the Islamic Military Alliance, a Saudi-led coalition of Muslim countries with the professed aim of countering terrorism. This is while Iran and Iraq, two Shia-majority countries, were not included in the alliance.
The coalition has also been criticized for not taking significant military actions against Daesh in Syria or Iraq. Critics note that the appointment of Sharif, who has close ties to Riyadh, could bolster the Arab country's effort to counter Iran's influence in the region.
Iran and Saudi Arabia have serious disagreements over the current situation in the Middle East, especially about the conflicts in Syria and Yemen.
This marks the first time that Tehran has overtly expressed dissatisfaction over Islamabad's decision to give the green light to Sharif to lead the coalition.
Honardoost said on Tuesday that Tehran has conveyed its concerns regarding the appointment to Islamabad. "We are concerned about this issue... that it may impact the unity of Islamic countries," IRNA quoted him as saying.
Analysts have criticized Pakistan's decision, saying it could worsen regional conflicts.
Sharif's appointment "is a bit of a departure from Pakistan's more-or-less neutral position on the Iran-Saudi regional war," said Arif Rafiq, a political analyst. "As a result, it's been opposed by even the mainstream, nonsectarian political voices in Pakistan."
Pakistan's Tehreek-e-Insaf party, led by Imran Khan, has strongly opposed the appointment, saying it could widen the Sunni-Shia divide in Pakistan and upset Iran.
"We strongly advocate the policy of impartiality as far as conflicts in the Middle East and Muslim world are concerned," Khan said. "We under no circumstances should fall into any conflict and hence be watchful of the impacts of every decision or choice we make."
Pakistan's Foreign Secretary Tehmina Janjua replied to criticisms, saying that Islamabad is committed to its policy of non-interference in the conflicts among Muslim countries.
"The Islamic [military] alliance is against terrorism, not any [specific] country," Janjua said, addressing concerns that Islamabad's move could complicate the already fraught Pakistan-Iran ties.
She further emphasized that Pakistan's policy regarding Iran, Yemen and Saudi Arabia has not changed and that her country aims at reducing tension between Tehran and Riyadh.
The Express Tribune, on Tuesday, quoted informed sources who said Pakistan's army chief General Qamar Javed Bajwa has given the Iranian envoy a categorical assurance that Islamabad's decision would not hurt Tehran's interests.
The sources also said that General Qamar might visit Iran in the coming days to assuage fears of the Iranian leadership over the controversial alliance.
Pakistan contacted Iranian officials before issuing a no-objection certificate to Sharif to take up the position of head of the 39-nation military alliance, but this "did not indicate that Iran was satisfied with this decision or it had accepted the same", Honardoost said.
The Tehran Times tried to reach Pakistani ambassador to Tehran in order to make comments on the issue, but he was not available.
On Monday, the Iranian ambassador underlined the need to establish a coalition of peace to resolve regional issues, voicing Iran's readiness to do so.
"Iran firmly believes that all the tensions which the Islamic world is facing can be resolved mutually," the Iranian ambassador remarked said.

MH/PA