By Marjan Golpira
Pakistan National Day marked in Tehran
April 15, 2017 - 14:25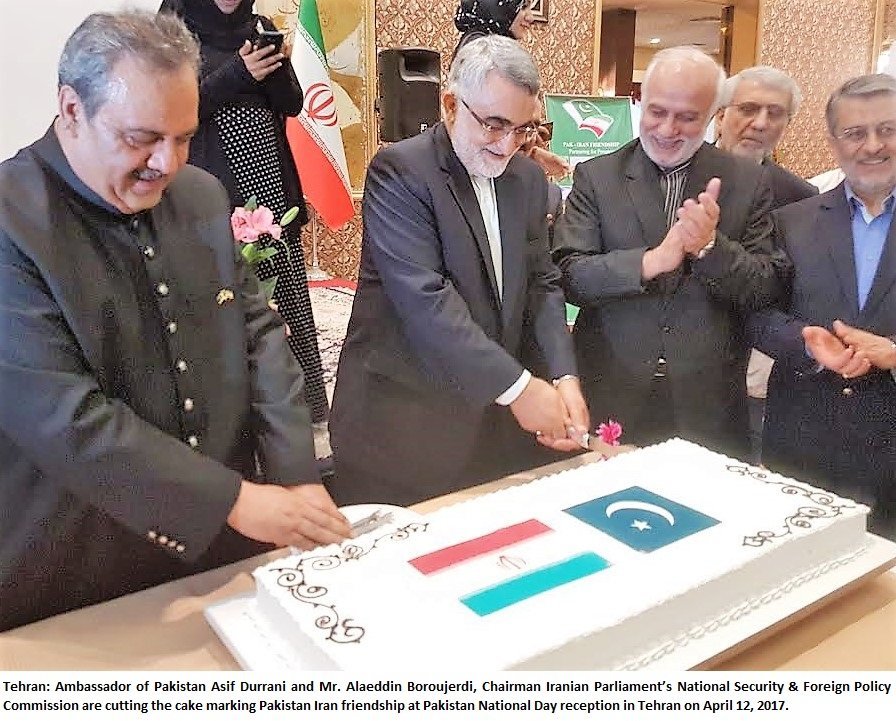 TEHRAN – To commemorate Pakistan National Day, Pakistani Ambassador to Tehran hosted a reception in a local hotel on Wednesday evening.
Since 23rd March falls during Nouroz holidays in Iran, the Pakistan National day reception was held on 12th April, 2017 in Tehran.
A number of Iranian dignitaries including members of Parliament, high ranking civil and military officials, diplomats, scholars, media persons and prominent citizens of both countries participated in the reception. Alaeddin Borojardi, chairman of the parliamentary national security and foreign policy commission, was the chief guest on the occasion.
The ceremony began with the national anthems of both Pakistan and Iran being played, followed by a speech by Ambassador Asif Durrani, who welcomed the guests and highlighted the historical significance of Pakistan National Day.
Ambassador Asif Durrani said that Pakistan and Iran shared seven decades of close fraternal relations which have grown stronger over the years. Both Tehran and Islamabad understand and appreciate each other's position on different regional and international issues.
"At political level, we enjoy extremely cordial relations. Our leadership's endeavors are directed towards further consolidating and strengthening our bilateral ties in all fields."
Ambassador Durrani added that President Rouhani's visit to Pakistan in February has further contributed to the strengthening of these relations.
As founding members of ECO, Ambassador Durrani said, Pakistan and Iran are closely working towards greater integration of the ECO region which will further boost economic ties and strengthen the whole region's vision of peace and prosperity through enhanced connectivity.
Ambassador Durrani expressed the hope that China-Pakistan Economic Corridor (CPEC) and declaration of Gwadar-Chabahar as sister ports would open up new vistas of cooperation for the benefit of the two countries and the region.
He highlighted the sacrifices of armed forces and Law enforcement agencies and success of Zarb-e- Azb operation in combating terrorism which was a clear manifestation of Pakistan's resolve in controlling and dealing with terrorism and extremism.
Referring to the menace of terrorism, the Pakistani top official said, Iran and Pakistan are determined to fight terrorism and restore peace to the region.
Then, another speaker of the ceremony, Alaeddin Boroujerdi, addressed the attendees.
The chief guest in his speech extended felicitations to the government and people of Pakistan on Pakistan's National Day and said Iran and Pakistan have deepest historical and cultural relations, which have grown stronger with time.
Boroujerdi pointed to the long-standing relationship between the two countries as "unbreakable bonds" adding that "Iran's policy is to expand relations with Pakistan."
The top lawmaker then said both countries bear the title of "Islamic Republic", Islamic Republic of Pakistan and Islamic Republic of Iran, adding that even the Pakistan's national anthem is in Farsi, indicating the depth of cultural ties between the two states.
Boroujerdi also addressed spread of terrorism in the region, saying that Iran's policy is and will be to "combat terrorism."
He hoped the region to witness perpetual peace particularly in states where their people have suffered greatly from instability in the past few years: Afghans, Syrians, Iraqis, Yemenis and so on.