Trump doesn't understand international relations, Iran's Shamkhani says
April 22, 2017 - 20:18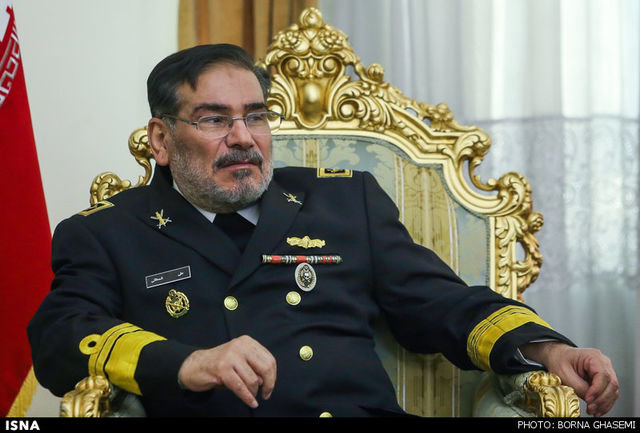 TEHRAN – A senior Iranian official has criticized U.S. President Donald Trump's contradictory words, saying he "does not have a clear understanding of international relations."
Secretary of Iran's Supreme National Security Council Ali Shamkhani made the remarks in an interview with the French daily Le Monde, which was published on Friday.
Shamkhani's remarks came after Trump said Iran is violating the "spirit" of the nuclear agreement it struck with world powers in 2015.
"Iran has not lived up to the spirit of the agreement," Trump said on Thursday at the White House, contradicting what his own State Department said earlier in the week.
"The U.S. Department of State certified to U.S. House Speaker Paul Ryan today that Iran is compliant through April 18th with its commitments under the Joint Comprehensive Plan of Action (JCPOA)," the department said on Tuesday.
Shamkhani further said that Trump's words and deeds have always been contradictory, adding that he only looks at matters economically.
He also referred to the Trump administration's efforts to re-impose sanctions against Iran, saying, "We are aware that the U.S. is leading an economic warfare on Iran. They, however, have found themselves in new circumstances today. The Europeans are no longer interested in accompanying the U.S."
"We do not seek tension in the region, as we consider it to be to the detriment of regional stability," the official noted.
Under a historic nuclear agreement signed between Iran and six world powers in 2015, Tehran pledged to limit some aspects of its nuclear program in exchange for sanctions relief.
Iranian officials, however, say the U.S. has been putting obstacles in the path of the deal's implementation.
Following Trump's controversial remarks about Iran's lack of commitment to the "spirit" of the deal, Iranian Foreign Minister Mohammad Javad Zarif hit back at the U.S. president, saying it is Washington that needs to meet its end of the deal.
"We'll see if U.S. prepared to live up to letter of JCPOA let alone spirit. So far, it has defied both," Zarif tweeted on Friday.
"Should I use my highlighter again?" he added, referring to a tweet he had posted earlier highlighting parts of the text of the JCPOA, under which the U.S. administration is committed to support the successful implementation of the accord.
MH/PA