Iranian institute organizing cartoon contest on Donald Trump  
July 2, 2017 - 18:24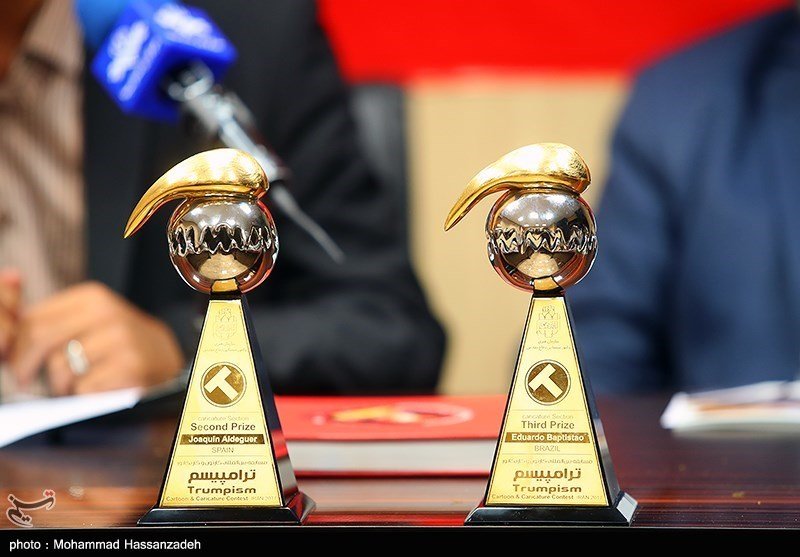 TEHRAN – The Organization for Sacred Defense Artistic and Cinema Affairs is holding a cartoon contest on U.S. President Donald Trump.
Artists from 75 countries have submitted over 1,600 works to the competition titled the International Trumpism Cartoon and Caricature Contest, the director of the organization, Ali-Asghar Jafari, said in a press conference on Saturday.
He added that the competition is being organized to acknowledge Trump since "he represents the real image of America."
"Trump's behavior clearly sets out Iran's reasons to distrust the U.S., consequently, we decided to use art's capacity for displaying the behavior," he added.
"Aside from his personal characteristics, Trump has also posed different challenges to the world and treats Iran and the Islamic world unconventionally in particular," he lamented.
Masud Shojaei-Tabatabai, who was an organizer of the International Holocaust Cartoon Contest in Iran, presides over the International Trumpism Cartoon and Caricature Contest.
"This contest considers Trump as a symbol of U.S. capitalism and hegemony that many intellectuals compare with Nazism," Shojaei-Tabatabai said.
Racism and Islamophobia in Trump's behavior are the main themes of the contest, which is scheduled to announce winners during a ceremony at the Art Bureau in Tehran tomorrow.
A selection of the submissions will be showcased during exhibitions in Iran and eleven other countries, including the Netherlands, Belgium, Indonesia, Brazil and Turkey.
Photo: Trophies are seen during a press conference for the International Trumpism Cartoon and Caricature Contest in Tehran on July 1, 2017. (Tasnim/Mohammad Hassanzadeh)
MMS/YAW