By Mahnaz Abdi
Iran goes big on clean energy
July 29, 2017 - 8:30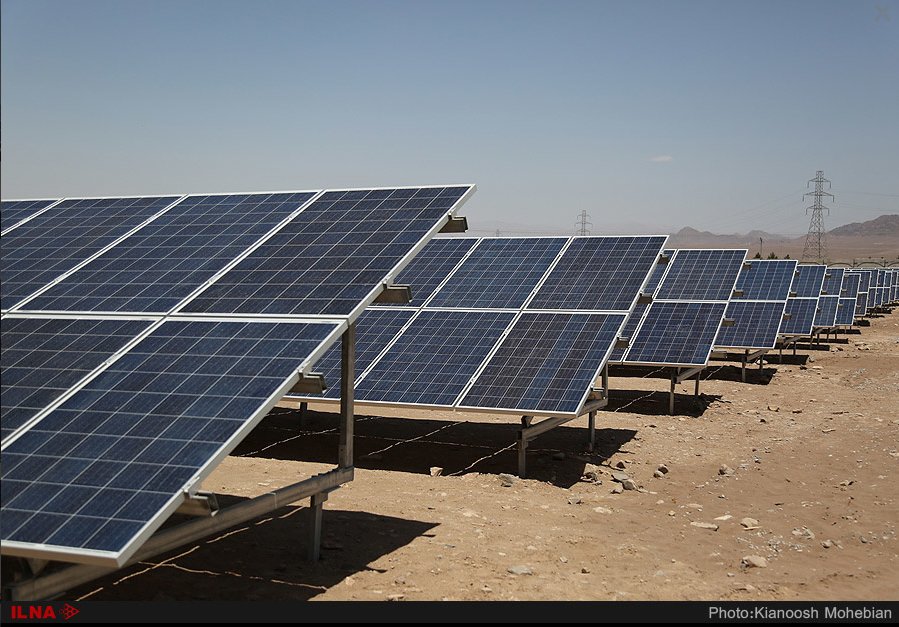 KERMAN- Through inaugurating a solar farm with a generation capacity of 20 megawatts and also breaking the ground for another solar farm with 100 MW capacity Iran took a big step toward harnessing renewable energies.
Energy Minister Hamid Chitchian inaugurated 20-MW Mokran Solar Farm in Mahan County in the southeastern Kerman Province on Thursday.
Covering 44 hectares of land, the farm includes 76,912 solar panels, each having a generation capacity of 260 watts of electricity.
Putting this farm into operation, the country's generation capacity of photovoltaic systems reached 53 MW.
The farm includes two parts, each generating 10 MW of electricity. It was built within six months.
The project to build this farm was jointly implemented by Iran's Mokran Solar Energy Company, as the general contractor, Germany's ADORE GmbH Company, as the program manager, and Switzerland's DURION AG Company, as the main investor that invested $27 million.
Some 30 percent of the project was carried out through domestic manufacturing capability and it created direct jobs for 300 people and indirect jobs for 150 persons.
According to the data provided by Mokran Company, it is the largest solar farm in Iran.
In his trip to Kerman, the energy minister also participated in the ground-breaking ceremony of the project to build another solar farm with the capacity of 100 MW in Mahan by Mokran Solar Energy Company.
It will be built on 150 hectares of land and will be one of the largest solar farms in the Middle East.
Renewable power capacity to rise 600 MW by Mar. 2018
Addressing the inauguration ceremony of Mokran Solar Farm, the energy minister said the country's power generation capacity from renewable sources is planned to increase by 600 MW by the end of current Iranian calendar year (March 20, 2018).
Chitchian put Iran's current renewable capacity at 420 MW.
He said since 20 years ago Iran has been planning to increase renewable energy share in the country's basket of energy and renewables account for 12,000 MW out of the 76,000 MW electricity generation capacity of Iran.
"For the moment, hydroelectric share is noticeable in the country's energy basket and we are currently boosting the shares of solar and wind farms", the minister added.
It is worth mentioning that all investments and activities in this field is done by private sector, he highlighted, adding that private sector has also embarked on manufacturing of related equipments.
"We have currently the capacity of manufacturing solar panels for generating 210 MW of electricity which is planned to reach over 500 MW by the yearend", Chitchian announced.
Elsewhere in his remarks, the minister referred to foreign direct investment (FDI) in Iran's renewable energy sector and mentioned Germany, Switzerland, Spain, China and South Korea as some of the countries making investment in this sector of Iran at the present.
Reducing 22,000 tons of carbon dioxide emissions per year
Addressing the same ceremony, Uwe Jorg Kuhnle, the managing director of DURION Company, said: "We avoid 22,000 tons of carbon dioxide emissions every year by this solar plant."
"Through our German-Iranian joint venture we successfully realized the technology transfer between Iran and Germany", he said adding, "We received great support from the Iranian government and all involved officials and agencies."
All of the money that was needed in Iran was officially transferred through the banking system from Germany to Iran, he mentioned.
"We already decided to invest in a production facility for another photovoltaic plant in Mahan to generate at least 100 MW for domestic market and for exports by more than 150 employees", Kuhnle further announced.
JCPOA to bring more European companies to Iran
Also, German Ambassador to Iran Michael Klor-Berchtold said implementation of JCPOA (Iran's nuclear deal, known as Joint Comprehensive Plan of Action) will bring more successes like this one (Mokran Solar Farm) to Iran as it will bring more European companies to the country.
He expressed happiness over this project and said: "I am glad about this solar farm because it is some cooperation between Germany and Iran."
"This project is an investment making for Iran's technology and also for its future," he underscored.
"We are determined to continue this way in Iran and hope that this project will be a symbol for other German projects in Iran," he added.
Renewables to generate 2000 MW of electricity in Kerman
Kerman Governor General Alireza Razm-Hosseini, for his part, said: "We have planned for implementation of projects to generate 200 MW of electricity per year from renewable sources in the province to reach the total capacity of 2000 MW within 10 years."
He also said a solar farm to be named "Sun City" is planned to be built in the province.
"We support investment making in renewable sector of the province", he further noted.
The governor general also said that $2.5 billion foreign investment has been made in the province after implementation of JCPOA.