Bus carrying schoolgirls rolls over, 9 killed
September 1, 2017 - 17:42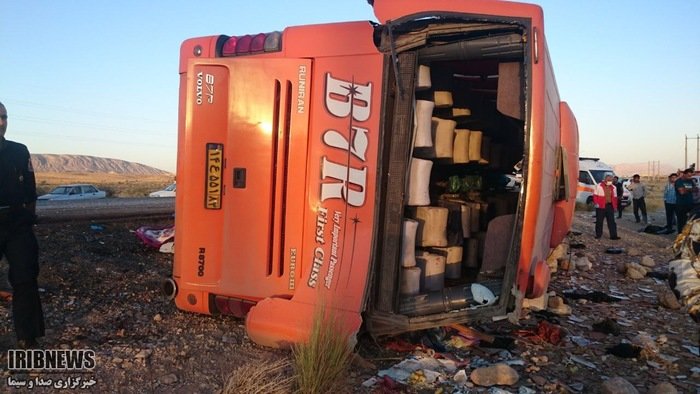 TEHRAN — A bus rollover early on Friday killed seven schoolgirls, their teacher, and the driver and 34 others were injured.
The incident happened on a road linking the city of Bandar Abbas, Hormozgan province, to the city of Darab, Fars province, both in southern part of the country, ISNA reported.
The bus was carrying 45 middle school and high school female students who were going on a science camp. However, it crashed at about 4 a.m. local time.
Fifteen ambulances and 3 emergency helicopters attended the scene immediately and transferred the injured students to the nearby hospitals in Shiraz and other cities.
Hassan Noori, deputy executive director of Iran's Emergency Medical Services, explained that the injured victims were soon transferred to the hospitals, but unfortunately 13 of them are in a critical condition and some might not survive.
Some students received outpatient care, but sadly 3 of them lose a limb, Nader Rahmani, an official with traffic police, said.
Hassan Fayazpour, Fars province crisis management director general, said that the accidents was caused by the driver falling asleep at the wheel. According to traffic police the driver died at the scene.
As announced on his twitter account Mohammad Bat'haei, Minister of Education, was departed to Darab for follow-up assessment of the situation and to check up on the surviving students.
"I have a fatherly sympathy for the grieving families. I soon issued orders for checking up on the students' condition and I'm travelling to Darab," Bat'haei wrote.
MQ/MG