French companies planning long-time co-op on projects in Iran
September 20, 2017 - 9:25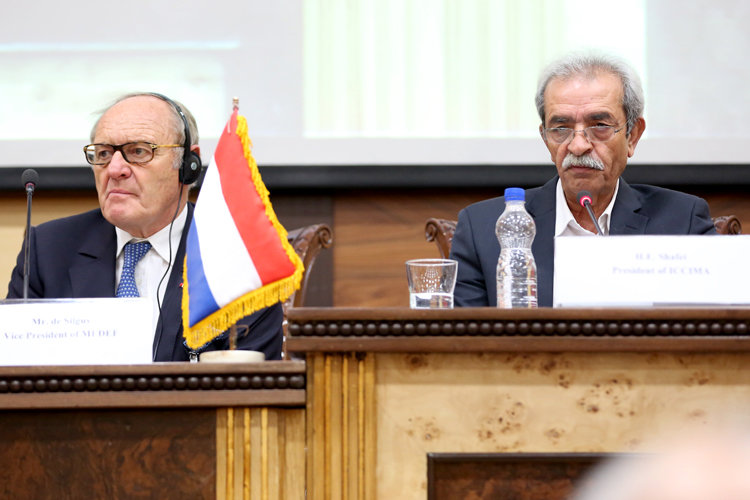 TEHRAN- Yve-Thibault de-Silguy, the vice President of France's largest employer federation MEDEF, announced that besides trade transactions, French companies are planning constant cooperation with Iranians in Iran, the portal of Iran Chamber of Commerce, Industries, Mines and Agriculture (ICCIMA) reported on Tuesday.
He made the remarks during Iran-France Business Forum at the place of ICCIMA in Tehran on Tuesday and in the presence of ICCIMA head and representatives of MEDEF (the Mouvement des entreprises de France or the Movement of the Enterprises of France).
The French vice president called the held forum an opportunity for boosting mutual transactions between Iran and France and noted that since the last meeting held between MEDEF and ICCIMA members, an important political event has taken place in both countries and now they are experiencing new governments after holding presidential elections. Both countries have remained eager on tightening their bonds, he added.
ICCIMA Head Gholam-Hossein Shafeie, for his part, referred to the strategic location of Iran in the region saying that "Iran can act as a bridge between France and 450-million-market of the Middle East, Caucus region, and the Central Asia."
"Iran is a country with low investment risk and high returns," he added.
"Increasing trade between the two countries requires removal of banking, customs, and transit impediments as well as offering new visa issuance services," he said hoping that the ground will be set for developing cooperation between Tehran and Paris in near future.
MEDEF delegation visits TSE
With MEDEF coordination, a high ranking delegation from French firms active in various areas including equipment, financial and legal services, transportation, and energy visited Tehran Stocks Exchange (TSE) on Monday, the official website of TSE reported.
The visiting delegation became familiar with the structure of Iranian capital market, available opportunities for investments, and tradable instruments. They were also informed of legal issues about doing business in Iranian market besides financing projects in Iran via the capital market.
As accorded, delegation members who intend to commence their activities in Iran will discuss the issue in separate future meetings with Iranian officials.
HJ/MA
PHOTO: Yve-Thibault de-Silguy, the vice president of MEDEF (L), and Gholam-Hossein Shafeie, the chairman of ICCIMA