By: Haniyeh Sadat Jafariyeh
JCPOA shall continue to stand: MEDEF VP
October 2, 2017 - 20:24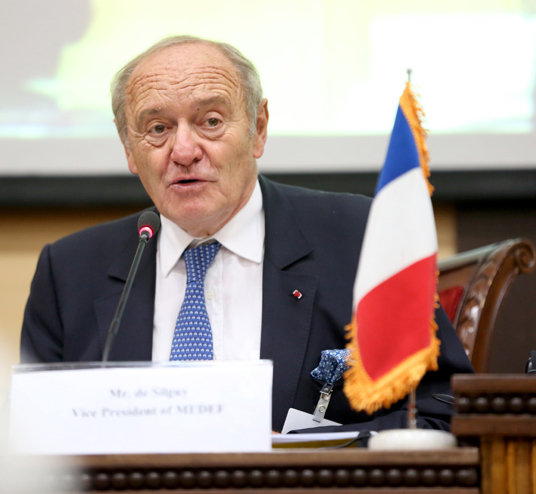 Iran's nuclear deal, officially called the Joint Comprehensive Plan of Action (JCPOA), opened gateways for European countries to boost their trade ties with Iran finding a share in its untouched lucrative market. Being implemented in mid-January 2016, JCPOA made European countries race to front of queue to enter various economic sectors in Iran.
Among them stood France. The country that signed a series of basic trade deals with Iran estimated to be worth billions of dollars during the historic visit to Paris by the Iranian president in late January 2016. Rouhani and his French counterpart, the then president Francois Hollande, oversaw the signing of the agreements, which concerned cooperation in different economic sectors such as aviation, car manufacturing and oil, among others. Since then, many French delegations, mainly from the French private sector, visited Iran to attend business forums and negotiate reinforcing bonds with their Iranian counterparts.
However, JCPOA has been subject to threat since Donald Trump became the U.S. president in January. He has repeatedly stated that the agreement should be renegotiated or even called off, however getting no support from other signatories including France, he has not been able to act on his words so far. Foreign trade delegations are still commuting to Iran and different agreements are being signed with the country.
Almost two weeks ago, Yves-Thibault De Silguy, Vice-President of the Movement of the Enterprises of France (also known as MEDEF) and Vice-Chairman of Vinci SA who is also Chairman of the French-Iranian Business Council and France's Secretary of State to the Minister for Europe and Foreign Affairs Jean-Baptiste Lemoyne led a high-ranking business delegation to Tehran and later to Isfahan organized by MEDEF and its local structure, CFAT (French Business Center of Tehran).
To have a better sight of De Silguy's opinion about the current and future Iran-France ties, the Tehran Times made an e-mail interview with him after his trip to Iran.
Being asked about his prospect of the future of Tehran-Paris economic and trade ties, under the impact of international political affairs, including President Trump's decision about Iran's nuclear deal, conflicts in the Middle East, etc., he replied: "It is true that Donald Trump's recurrent declarations created some level of uncertainty. We witnessed a slight slowing down of economic activities from January until May, after the result of presidential elections both in Iran and France. As a result, major investment decisions were postponed to the end of June. However, MEDEF International has been very busy debunking some unfounded fears," he said, "Indeed, it is true that the Iran nuclear agreement has been heavily criticized by the Unites States. However, the Trump administration is still part of this agreement and has dutifully carried out all its legal obligations deriving from it."
"On the other hand, French President Emmanuel Macron, the representative of the European Union External Action Services, Federica Mogherini, and other world leaders strongly showcased their support for this agreement, reminding that it has been signed by Iran and the United States, but also France, China, Russia, the United Kingdom, Germany and the European Union. It shall thus continue to stand," he added.
Answering a question on the achievements of his visit to Iran, the signed contracts and the fields of cooperation for instance, and also about the prospect of French companies in Iran, De Silguy explained that: "This visit was the 5th high level French business delegation in only three years. Representatives from top French companies as well as very innovative SMEs met with newly appointed ministers, the Iranian and Isfahan Chamber of Commerce and the governorate of Isfahan, among others. In this respect, interest of the French private sector for Iran remains, as ever, extremely high. Many contracts attracted public attention. This is the case of Vinci [French construction firm], which is currently in negotiations with regards to the renovation of the Isfahan and Mashhad airports. We see strong areas of cooperation between France and Iran, for instance in the transports and infrastructure sectors. According to recent declarations from the [Iranian] transportation and infrastructure minister, Dr. Akhoundi, Iran is planning to create, renovate or expand ports, rails and metro/tramway infrastructures. French companies and their subsidiaries are ready to join forces with Iran to reach these ambitious objectives. Oil & gas, environment, pharmaceuticals, digital and communications or consumer goods are also areas where French companies have much to offer."
As Iranian media quoted Head of Iran Chamber of Commerce, Industries, Mines and Agriculture (ICCIMA), Gholam-Hossein Shafeie as saying, the trade between Iran and France is expected to reach $4.8 billion by the end of the next year. The Tehran Times asked MEDEF vice-president about how the target will be hit.
"Several major contracts have been finalized recently. In July, Total signed a $5 million agreement with Petropars for the development of South Pars [phase] 11. In August, Renault signed an agreement with Iran Khodro for the construction of up to 300,000 cars per year in Iran," he said.
"These new areas of cooperation will contribute to strengthen trade relationships between France and Iran. This encouraging forecast from the Iran Chamber of Commerce is also the result of past contracts signed over the last year and a half, such as Airbus, ATR, Peugeot, Renault etc. In other terms, this very promising trade relationship is due to the commitment of French companies on Iran's side, on many major and strategically contracts, reaching a wide array of industries," he added.
Describing about the existing impediments on the way of French companies to boost activities in Iran, For example, compensating the absence of European and French banks in Iran, the French official explained: "It is true that trade activities in Iran have been hindered by the lack of financing solutions from French and European banks. However, we remain positive. Few days ago, Nicolas Dufourq, head of the French public investment bank, Bpifrance, announced that it will shortly provide financing for French companies in Iran, with credit lines up to 500 million euros. This solution will be the most important step taken by a European bank with regards to Iran. Thus, I am confident that when this credit line comes into place, France will be able to develop even further and quicker into the Iranian market."
De Silguy also described France's plans for making investments in Iran.
"Of course, not all sanctions have been lifted by the nuclear agreement of July 2015. American sanctions remain in place and French companies are compelled to take them into account before investing in Iran. Therefore, we always advise French companies to be cautious about the international legal framework before entering negotiations in Iran. Once relevant due diligence have been made, Iran has a very promising market to invest in! Furthermore, the French government's support to our companies, as showed by the presence of the Minister of State Jean-Baptiste Lemoyne, during our delegation in Iran, is also of great help," he said.
HJ/MA
PHOTO: MEDEF Vice-President Yves-Thibault De Silguy