British FM strongly supports nuclear deal
September 19, 2017 - 20:12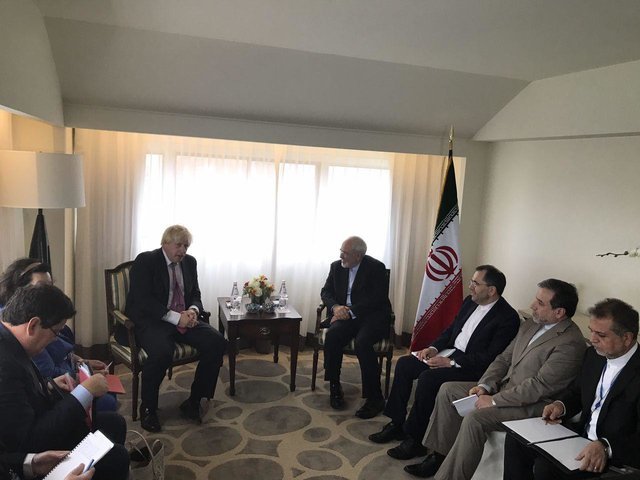 TEHRAN - British Foreign Secretary Boris Johnson has said that London strongly supports the 2015 nuclear deal, officially called the Joint Comprehensive Plan of Action.
During a meeting with Iranian Foreign Minister Mohammad Javad Zarif on the sidelines of the UN General Assembly in New York on Monday, Johnson highlighted the necessity of protecting and implementing the JCPOA.
The Iranian and British officials also discussed expansion of bilateral ties and crises in the Middle East region including the planned independence referendum in the Iraqi Kurdistan.
Iran, the European Union, Germany and the five permanent members of the UN Security Council signed the nuclear deal on July 14, 2015. The nuclear agreement went into effect in January 2016.
The Iranian foreign minister also met separately with Jan Kubis, the top UN envoy to Iraq.
Zarif also told reporters that JCPOA Joint Commission were scheduled to be held a meeting on Tuesday in New York.
The previous JCPOA Joint Commission meeting took was held on July 21 in Vienna.
Such meetings provide the opportunity to address the implementation of the JCPOA.
Zarif also said that a meeting of the JCPOA Joint Commission at the ministerial level will be held in future days.
According to reports, European Union foreign policy chief Federica Mogherini has said that the JCPOA Joint Commission at the ministerial level plans to be held on Wednesday.
NA/PA