Tbilisi hosts Iran-Georgia business forum, economic committee meeting
October 12, 2017 - 8:31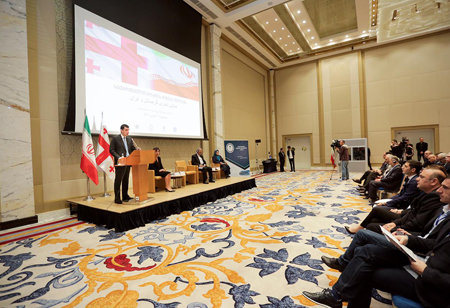 TEHRAN- Iran-Georgia business forum and the 6th meeting of the two countries joint economic committee was held in the Georgian capital, the portal of Iran Chamber of Commerce, Industries, Mines and Agriculture (ICCIMA) reported on Wednesday.
The business forum was reportedly attended by the Iranian Labor Minister Ali Rabiei, Georgian Minister of Economy and Sustainable Development Giorgi Gakharia, head of Georgian Chamber of Commerce, head of Iran-Georgia Joint Chamber of Commerce, and the two countries' ambassadors.
As reported, the forum gave a platform to the government authorities as well as representatives of Georgian and Iranian companies to establish communication for more productive future cooperation.
The participants in this event investigated available economic opportunities for cooperation and got familiar with each other's economic private sectors for joint further cooperation and entering one another's markets.
According to Georgia's Ministry of Economy, the main interests of Iranian business delegation included transport, chemical products and oil transportation, food industry, wood processing, manufacturing of electric equipment, oil and gas, financial sector, AGENDA.GE reported.
At the forum Georgian authorities showcased the country's favorable business environment and urged Iranian business delegation to invest in Georgia, the same report confirmed.
"We know that a very large project has been initiated, which is meant to create an oil processing enterprise… In the first eight months [of 2017] trade turnover [between Georgia and Iran] increased by 48 percent… We try to overcome all challenges in order to have more effective communication [with Iran]," Gakharia was quoted saying by the Georgian website.
During the 6th meeting of Iran-Georgia Joint Economic Committee, where the authorities talked about how to improve cooperation in the fields of transport, trade, manufacturing, agriculture, food industry and financial sector, Rabiei and Gakharia signed the final document of the joint committee.
As Georgia Today reported, Rabiei also met Prime Minister of Georgia Giorgi Kvirikashvili where the Georgian official talked about the importance of developing the Persian Gulf-Black Sea transport corridor and future cooperation of the two countries energy sectors. Trade, economy and tourism cooperation between the two sides were also discussed during the meeting.
An Iranian delegation comprised of the top managers of 30 Iranian companies arrived in Georgia on Tuesday to participate in the Georgian-Iranian business forum and strengthen economic relations between two countries.
HJ/MA