Aid still rushing to quake-hit Kermanshah
November 16, 2017 - 11:13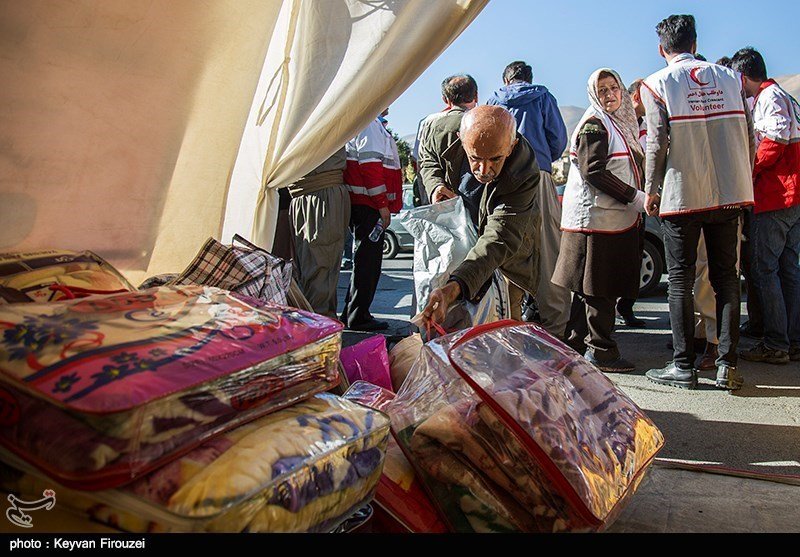 TEHRAN — Four days after the deadly magnitude 7.3 earthquake striking the western province of Kermanshah, medical, relief, and reconstruction aid is still rushing to the region.
The major temblor which was felt in other province of Iran as well as some other regional countries left at least 432 dead and 9,400 injured. More than 270 aftershocks, measuring 3.5 to 4.5 on the Richter scale, have hit the area over the past few days.
Over 1,900 towns and 7 cities of the province were devastated by the earthquake, Mehr news agency quoted Interior Minister Abdolreza Rahmani Fazli as saying.
Many victims who sustained serious injuries were transferred to Tehran to receive proper medical care.
Loans, handouts
Kermanshah governor has said that some 40,000 houses both in rural and urban areas have been demolished.
Government spokesman Mohammad Baqer Nobakht has announced some 2.81 trillion rials (nearly $70 million) is allocated for government handouts to the earthquake victims. Nobakht also explained that some 6.6 trillion rials (nearly $165 million) is drawn up for low interest loans.
Villagers will be granted with handouts amounting to 50 million rials ($1,250) and those living in urban areas will receive handouts worth of 60 million rials ($1,500), he said. Those who need loans for reconstruction of their houses can take out loans totaling 120 million rials ($3,000) in addition to 20-million-rial ($500) handout.
"Those who need home appliances will receive handouts of 20 million rials ($500) and loans of 30 million rials ($750)," he added.
Nobakht highlighted that additionally people residing in rural and urban areas will be given handouts totaling 30 million rials ($750) and 50 million rials ($1,250) respectively for temporary accommodation.
Helicopters helping remote areas
About 10 helicopters have flown to the remote areas on Wednesday morning to help people who are stranded in those regions.
44 schools destroyed
44 schools including 14 in rural areas and 30 in urban areas were destroyed, accounting for 6 percent of the schools of Kermanshah, director of schools renovation, development and equipment organization has said.
Reconstruction projects as well as projects to reinforce rest of the schools would cost some 660 billion rials ($16.5 million), Tasnim news agency quoted Mohammad Taqi Nazarpour as saying.
For the time being, Nazarpour said, some schools will operate in two shifts and also [shipping containers called] conex can be used temporarily as school classes.
Public assistance
Public have so far donated necessary items including tents, blankets, water, and food and made contributions to the victims of the tragic incident.
Mawkibs, camps provide free services for pilgrims on Arba'een Trek, have also travelled from Khuzestan province to Kermanshah to offer food and accommodation services to the earthquake-stricken families.
MQ/MG