Iran says Arab League statement is 'all lies and distortions'
November 20, 2017 - 20:49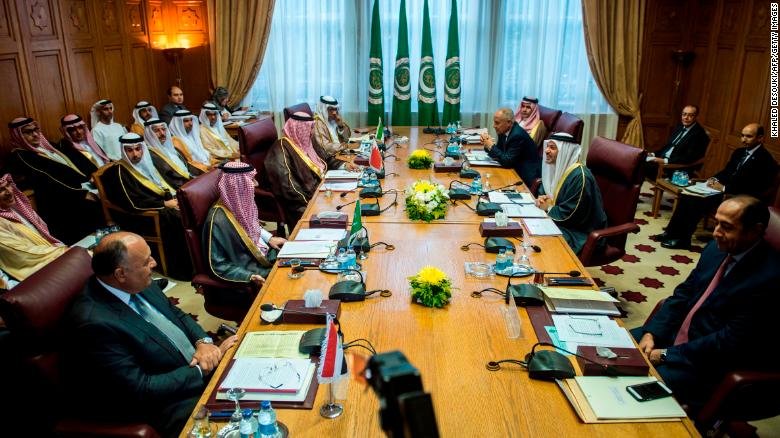 TEHRAN – The Iranian Foreign Ministry has slammed Saudi Arabia for walking on the footsteps of the Zionist regime and called the Arab League's anti-Iran statement "worthless" which is full of "lies and distortions".
Pointing to the Sunday session of the Arab League in Cairo, Foreign Ministry spokesman Bahram Qassemi said issuing "worthless statements" is not the solution to current regional problems, for the majority of which, he said, Riyadh is responsible.
He pointed out that Saudi Arabia is exacerbating regional disputes, and by its anti-Iran agenda, the kingdom is distracting Muslim nations from the important issue of Israeli occupation of Palestine.
The Arab League on Sunday held an emergency meeting which was convened at the request of Saudi Arabia with support from the UAE and Bahrain to discuss ways to confront what they called Iranian interference in the region.
In a statement after the meeting, the Arab League accused Iran of arming the Houthis in Yemen and denounced the Lebanese Hezbollah resistance movement for "supporting terrorism and extremist groups in Arab countries with advanced weapons and ballistic missiles."
The spokesman said the statement was "all lies and distortions".
He said the Islamic Republic wants Saudi officials to immediately put an end to their aggression against Yemeni people.
Saudi Arabia and its allies launched a military campaign against Yemen in March 2015 in an attempt to defeat Houthi fighters and to reinstate the former Yemeni president, Abd Rabbuh Mansur Hadi, Riyadh's close ally.
As a result of the Saudi-led coalition's ceaseless bombardment of Yemen, so far more than 12,000 Yemenis have been killed and thousands more sustained injuries. The war-torn Middle-Eastern country is suffering one of the world's worst humanitarian crises as described by rights groups.
On Saturday, Iranian Foreign Minister Mohammad Javad Zarif said on Twitter that he had submitted a letter to the UN in which he urged the implementation of a previous four-point plan to resolve what he described as the "tragic situation in Yemen".
Riyadh's regional policies have also impacted other countries, including Syria, which is suffering a foreign-backed militancy since 2011, Bahrain, Qatar and last but not least, Lebanon, whose prime minister announced his resignation weeks ago while on an official visit to Saudi Arabia.
Qassemi called on Riyadh to stop putting pressure on Lebanese and Qatari people and put an end to its intervention in Bahrain, so that the people of that country can "find a solution to their problems through dialogue."
He emphasized that Iran's foreign policy is based on friendly relations with regional countries.
Pointing to the Astana peace initiative which was brokered by Iran, Russia and turkey, the spokesman said Tehran strives to end the region's conflicts, but its efforts is hampered by Saudi Arabia's incendiary actions that fuel the flames of regional conflicts.
MH/PA