Trilateral summit on Syria
Rouhani says Iran after cooperation, not competition 
November 22, 2017 - 20:24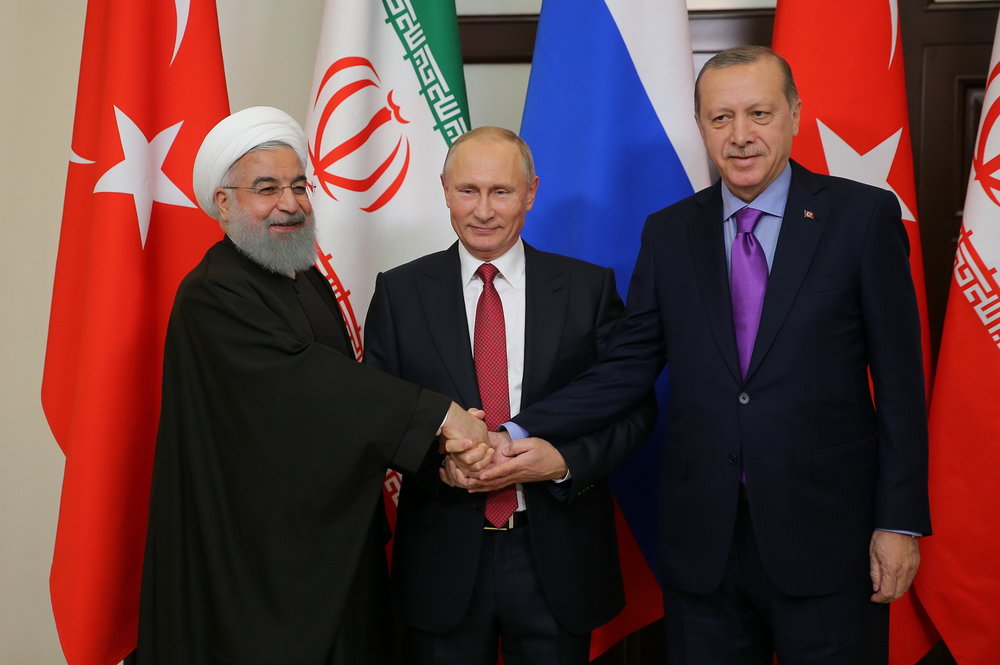 TEHRAN – Iranian President Hassan Rouhani said on Wednesday the Islamic Republic is seeking cooperation and not competition in the region.
Rouhani made the remarks in a trilateral meeting on Syria in Sochi, Russia, with his Russian and Turkish counterparts, Vladimir Putin and Recep Tayyip Erdogan.
Stressing international cooperation to fight terrorism, Rouhani said the ongoing fight against terrorism in Syria should be continued "until the last nuclei of terrorism in Syria are wiped out".
The president stressed that Iran's approach to regional issues is attaching importance to "the will of nations rather than that of foreign states, and love of peace, rather than war-mongering."
He said it is the cause of much felicity that one year after the launch of the Astana talks on Syria, the political efforts of Tehran, Moscow, and Ankara have borne fruit in the form of the defeat of Daesh in Syria.
He wrapped up his speech by noting three points regarding the future of Syria:
1. That war on terror is not over and the recent victory should not make the triad forget about the continuing threat of Takfirism.
2. That after long years, the people of Syria are now in a situation when they can decide their future, and that ethnic diversity and democracy should be upheld in order for the nation to decide free of the influence of foreigners.
3. That the international community should help Syrians achieve stability, rebuild their country, and their refugees should be provided with a peaceful environment to return to.
During the meeting, Putin, for his part, said the meeting came at a crucial moment in the Syrian armed conflict, when there is an opportunity to end it.
"The militants in Syria have suffered a decisive blow, and now there is a realistic chance to end the multiyear civil war," Putin said, according to RT.
This would require giving the Syrians a period of peace, during which they would be able to settle their differences, Putin added.
This will require compromise by all parties in Syria, both the government and the rebels, he stressed.
Erdogan, for his part, said the three nations had already helped in resolving the situation in Syria to a large degree through the Astana talks.
"But we don't consider this result sufficient and believe that all stakeholders must put effort into a political resolution of the conflict, which the Syrian people would accept," the Turkish leader added.
SP/P