Zarif says Armenia working to preserve regional peace
November 28, 2017 - 19:24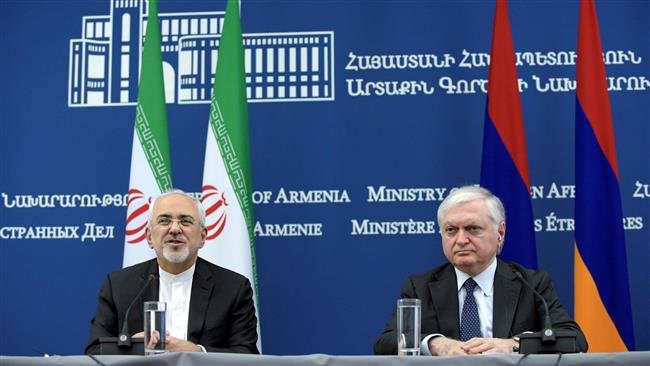 TEHRAN – Armenia is working to preserve peace and stability in the region, Foreign Minister Mohammad Javad Zarif said, expressing hope for successful cooperation in all areas between Iran and Armenia, Public Radio of Armenia reported.
He made the remarks at a joint briefing with his Armenian counterpart Eduard Nalbandyan on Tuesday, after the two met to discuss bilateral ties as well as regional and international developments.
Heading a high-ranking political and economic delegation, Zarif visited Yerevan on Tuesday morning.
He said the two countries are developing ties in numerous directions. "Iran and Armenia are good neighbors. Iran has good relations with its neighbors."
The foreign minister said energy and transit are high on the agenda of Iranian-Armenian cooperation, emphasizing the importance of cooperation in the fields of environmental protection, education, science and technology.
He thanked the people and authorities of Armenia for their response after an earthquake hit western Iran.
He also expressed gratitude to the Armenian side for the support at international platforms.
Zarif praised the progress Armenia and Iran have registered in their cooperation in all spheres.
Nalbandyan, for his part, said Armenian Prime Minister Karen Karapetyan will pay a visit to Iran to boost and diversify relations.
"Iran-Armenia relations are founded on friendship between the two nations, which have a long-lasting record," Nalbandyan said.
Pointing to the friendly nature of the Iran-Armenia relations, Nalbandyan said, "The Armenian prime minister's visit to Iran has been on the two countries' agenda."
Later in the day, Zarif held a meeting with Prime Minister Karapetyan, during which he said the economic delegation accompanying him was comprised of managers from top companies which were ready to further expand bilateral economic relations.
The prime minister said Yerevan attaches great importance to its relations with Iran and is ready to expand ties in various fields.
"Exports and imports between the two countries are on the rise and we are ready to enable Iranian companies to benefit from the interests of the Eurasia Union through Armenia," Karapetyan said.
Zarif also took part in Armenia-Iran Business Forum, where he praised the "very close and growing relations" between the two countries, saying there was no obstacle in the way of improving mutual ties.
The top diplomat further said there is ample ground for cooperation between the private sectors of both sides, stressing that Tehran and Yerevan need to benefit from their free trade zones and bolster their economic ties.
Zarif also met with Armenia's President Serzh Sargsyan, and discussed bilateral ties and mutual interests.
MH/PA