Pakistan calls Iran 'strategic partner'
December 25, 2017 - 20:11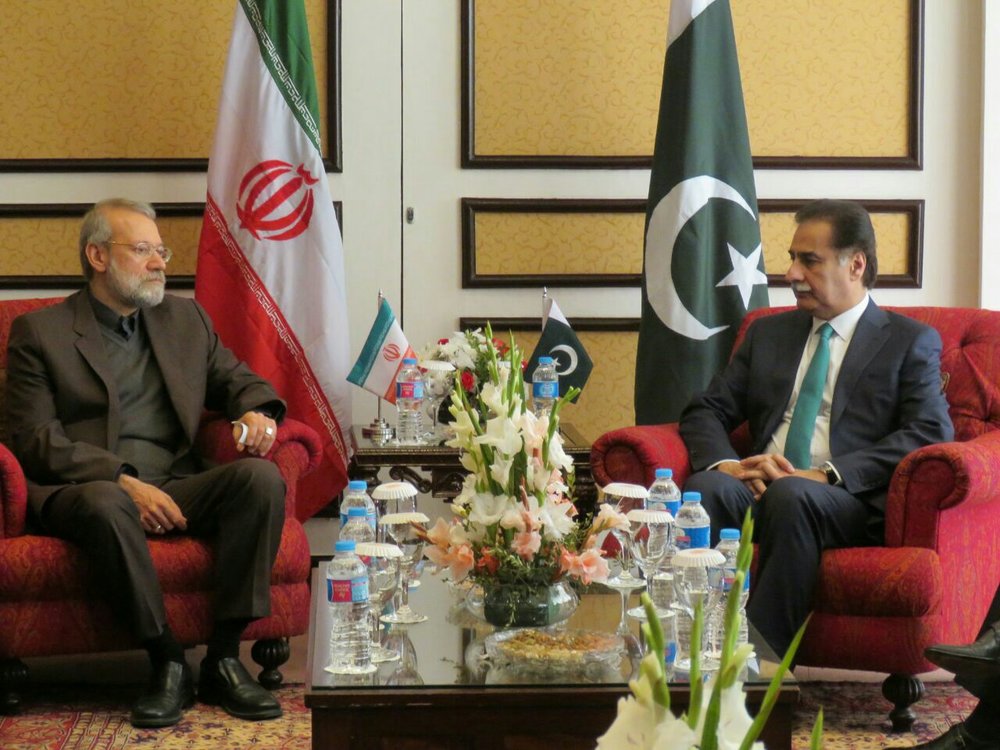 TEHRAN - Speaker of the National Assembly of Pakistan Sardar Ayaz Sadiq said on Monday that Iran is an "important friend" and "strategic partner" for Pakistan.
During a meeting with Iranian Majlis Speaker Ali Larijani on the sidelines of a conference on terrorism and inter-regional connectivity in Islamabad, Sadiq said that Iran and Pakistan have common friends, enemies and international objectives.
He said that the two countries have good political relations and called for expansion of economic ties.
For his part, Larijani said Iran attaches great importance to expansion of cooperation with neighboring Pakistan.
The two-day conference on terrorism began in Islamabad on Sunday with the participation of parliament speakers from Pakistan, Russia, China, Turkey and Afghanistan.
During his speech at the conference on Sunday, Larijani said the occupation of other countries' land, extremism and intelligence services are chief reasons behind spread of terrorism in the region.
The senior lawmaker added attacks on Afghanistan by the Soviet Union and later by the U.S. and NATO led to formation of terrorist groups in the country.
He called on China and Pakistan to join a counter-terrorism campaign being spearheaded by Iran, Russia and Turkey.
He described cooperation among Iran, Turkey and Russia as an example of successful cooperation in fighting terrorism in Syria.
'U.S. is symbol of evil'
Larijani also called the U.S. "symbol of devil" in the region.
"The Islamic Republic of Iran has been fighting terrorism for many years and it was the U.S. who created Daesh," he noted.
Larijani meets Turkish, Afghan counterparts
Larijani held separate meetings with his Turkish and Afghan counterparts Ismail Kahraman and Abdul Rauf Ibrahimi on the sidelines of the regional conference on Monday.
During the meeting with Kahraman, the two sides stressed the need for increased cooperation and development of economic ties between Tehran and Ankara.
Kahraman, for his part, expressed pleasure in the growing ties between the two countries, saying, "Exchanging parliamentary delegations is complementary to bilateral relations."
Also, during his meeting with Ibrahimi, Larijani underlined Iran's willingness to broaden ties with Afghanistan in different political, economic, cultural and security fields.
Ibrahimi, for his part, asked Larijani to use his influence as representative of a great country like Iran to help Afghanistan to develop ties with other regional states.
NA/PA