By Maryam Qarehgozlou
E-government promotes empowerment and inclusion in society
January 5, 2018 - 9:58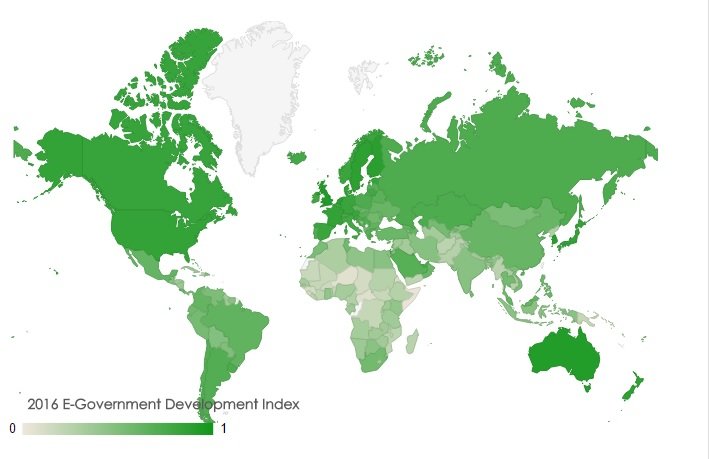 Electronic government (or e-government) is the application of information and communication technology (ICT) to government functions and procedures with the purpose of increasing efficiency, transparency and citizen participation.
Basically, implementation of e-government would save money and time. Most significantly it could empower governments as well as citizens by increased inclusion and also participation as they can benefit from better access to information and services, and open up more opportunities for their voices to be heard by decision makers.
According to Organization for Economic Co-operation and Development (OECD), e-government helps improve efficiency in mass processing tasks and public administration operations. Internet-based applications can generate savings on data collection and transmission, provision of information and communication with customers. Significant future efficiencies are likely through greater sharing of data within and between governments.
Moreover, e-government improves services to the public, contributes to economic policy objective by reducing corruption, increasing openness and trust in government, and can be a major contributor to reform by improving transparency, facilitating information-sharing and highlighting internal inconsistencies.
Building trust between governments and citizens is fundamental to good governance. ICT can help build trust by enabling citizen engagement in the policy process, promoting open and accountable government and helping to prevent corruption.
And last but not least e-government enhances transparency and accountability as ICT helps to increase the transparency of decision-making processes by making information accessible – publishing government debates and minutes, budgets and expenditure statements, outcomes and rationales for key decisions, etc.
Where does Iran stand worldwide?
As per the United Nations 2016 E-Government Development Index, out of 193 countries worldwide Iran ranks 106 in putting in place e-government initiatives and information and communication technologies applications for the people to further enhance public sector efficiencies and streamline governance systems to support sustainable development.
On a scale of zero to one the United Kingdom tops the list with an index of 0.9193 followed by Australia, Republic of Korea, Singapore, Finland, Sweden, the Netherlands, New Zealand, Denmark and France. With an index of 0.4649 Iran stands somewhere in the middle of the chart.
As per the report some lower middle-income countries namely Georgia, Republic of Moldova, the Philippines, Seri Lanka, Uzbekistan, Morocco, Armenia, Viet Nam, and Paraguay are ranked above Iran which is categorized as an upper-middle income country and they even made considerable progress compared to their 2010 ranks.
For one, among the aforementioned nations Morocco have had a great rank change from 126 in 2010 to 85 in 2016.
On the other hand, the Islamic Republic of Iran has had a minus four rank change compared to the year 2010.
The data which is available from the year 2003 indicates that Iran has had its ups and downs and ranked 98 (its highest ever rank over the aforesaid period) in 2005.
On a scale of zero to one the United Kingdom tops the list with an index of 0.9193 followed by Australia, Republic of Korea, Singapore, Finland, Sweden, the Netherlands, New Zealand, Denmark and France. With an index of 0.4649 Iran stands somewhere in the middle of the chart.
Keeping pace with the world?
In order to forge ahead, Ali Akbar Jalali, a professor at the school of electrical engineering, Iran University of Science and Technology (IUST), says Iran need to take 5 steps.
Known as Iran's father of ICT, Jalali explained that firstly the government should develop the necessary infrastructure for all to have easily access to e-government services.
In line with that setting up internet kiosk in underprivileged rural regions and also offices providing e-services in urban areas should be on agenda.
As the number of users increase the chances of using e-government services would surge and this entails infrastructure improvement, Jalali who is also a visiting professor at the University of Maryland, stated.
Secondly, governmental originations should recruit experts active in this field to switch from traditional systems to digital ones, Jalali highlighted, adding, also the educational entities should lay the ground for educating skillful specialist in the field as well as setting up schemes for training the public for better grasp of e-government services.
Thirdly, the adjunct professor in the Lane Department of Computer Science and Electrical Engineering at the West Virginia University said, legislative bodies should adopt new laws concerning a fully operational e-government.
Next, Jalali said, the highest ranking officials should be utterly determined to implement e-government in the country.
And lastly, he concluded, the government should allocate budget for executing such plans.Implementation of SDGs
The 2016 UN E-Government Survey provides new evidence that e-government has the potential to help support the implementation of the 2030 Agenda and its 17 sustainable development goals (SDGs).
To realize the full potential impact of e-government for sustainable development, the report found that it needs to be accompanied by measures to ensure access and availability of ICT and make public institutions more accountable and more responsive to people's needs. It concluded that it is essential to ensure that the overarching objective of poverty eradication and "Leaving No One Behind", a key principle of the 2030 Agenda, are at the core of efforts to mobilize ICT to realize the transformation the 2030 Agenda demands.
Although the vulnerability to cyber-attacks is one of the key disadvantages of e-government, considering its advantages and the fact that the whole world are taking huge steps in furtherance of the field the whole idea of taking measures to improve the country's current status is one of the wisest thing as e-government is a powerful tool to implement global sustainability goals.
MQ/MG