Agreements signed to boost economic, agricultural, development co-op
February 17, 2018 - 19:52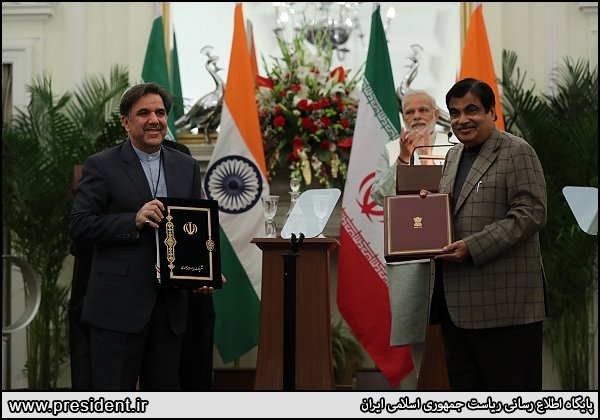 TEHRAN- Iran and India inked several cooperation agreements on economy, agriculture, and development in New Delhi and in the presence of Iranian President Hassan Rouhani and Indian Prime Minister Narendra Modi on Saturday, Iranian presidential website reported.
The penned agreements included: a double taxation avoidance agreement, an MOU on agricultural cooperation, an MOU on anti-dumping, an MOU on transient management of the first phase of Iran's southeastern Chabahar Port, an MOU between Iran Chamber of Commerce, Industries, Mines and Agriculture (ICCIMA) and Federation of Indian Chambers of Commerce and Industry (FICCI), an MOU between ICCIMA and Associated Chambers of Commerce and Industry of India (ASSOCHAM), and an MOU between ICCIMA and PHD Chamber Of Commerce and Industry.
During their Saturday meeting, Rouhani and Modi referred to energy and transportation sectors as the major fields of cooperation between the two sides.
Underlining that Iran can supply India's need for energy under long-term agreements, Rouhani said that "such long-term agreements on fields of energy and transportation will make the two countries safe partners."
Iranian president started his three-day trip to India on Thursday. As reported, in addition to four Iranian ministers, Rouhani was accompanied by a delegation from Iranian private sector entrepreneurs led by ICCIMA Head Gholam-Hossein Shafeie.
Iran-India Business Forum was also held on the third day of Iranian presidents' visit to India. The Forum was attended by Iranian Finance Minister Masoud Karbasian, Head of Organization for Investment, Economic and Technical Assistance of Iran Mohammad Khazaie, Head of Iran's Trade Promotion Organization (TPO) Mojtaba Khosrotaj, and President of FICCI Rashesh Shah.
HJ/MA
PHOTO: Iranian Transport Minister Abbas Akhoundi (L) and Indian Minister for Road Transport & Highways, Shipping and Water Resources Nitin Gadkari after signing co-op agreement in New Delhi on Saturday