By staff and agencies
Iran says can't remain in nuclear deal with no benefit
February 24, 2018 - 11:51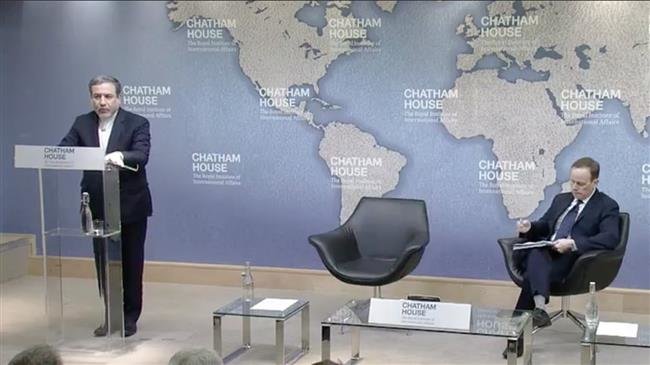 Iranian Deputy Foreign Minister Abbas Araqchi said on Thursday that Tehran cannot remain in the 2015 nuclear deal, known as the Joint Comprehensive Plan of Action, if it cannot benefit from it.
"If the same policy of confusion and uncertainties about the JCPOA continues, if companies and banks are not working with Iran, we cannot remain in a deal that has no benefit for us," Araqchi said in a speech at the Chatham House think tank in London.
In a statement on January 12, Trump gave Europeans only 120 days to agree to an overhaul of the nuclear agreement and said if the text of the nuclear deal is not revised he would unilaterally withdraw the U.S. from the agreement.
"The deal would not survive this way even if the ultimatum is passed and waivers are extended," Independent Quoted Araqchi as saying.
Iran, the five permanent members of the UN Security Council - the U.S., UK, France, Russia, and China – Germany and the European Union struck the nuclear deal on July 14, 2015.
Since the JCPOA went into force in January 2016 the United Nations' International Atomic Energy Agency has issued ten reports each time confirming Tehran's complete compliance with the multilateral agreement.
Iranians' expectations from JCPOA not met
"In Iran, people's expectations from the JCPOA are not met. Most of it is because of this atmosphere of uncertainty which President Trump has created."
"If we lose JCPOA, we would face another nuclear crisis, which would be very difficult to be resolved this time," Araqchi says. "This is a choice between security and insecurity at the world level."
He noted, "If we lose the JCPOA, we will face another nuclear crisis. For the Europeans or the world community, when we talk about maintaining the JCPOA and saving it, it's not a choice between Iranian or the U.S. market, it's not a choice for economic cooperation; it's a choice between having security and insecurity."
Elsewhere he said, "Iran's commitment to not seek nuclear weapons is permanent and there is no so-called sunset clause in the deal."
"There is no sunset clause in the JCPOA. Although the U.S. administration and Trump are talking about sunset clause and that JCPOA is just for 10 years, that is not true," Reuters quoted him as saying.
He also added that the JCPOA was a non-proliferation treaty and could not be linked to any other issue.
If the nuclear deal is linked to Iran's ballistic missile program or its regional activities, world powers "not only will lose the JCPOA, but will make other issues more complicated and more difficult to resolve," he noted.
Following the deal, Iran has gradually opened its country to foreign investment and welcomed more foreign visitors. However, there are several U.S. sanctions that remain in place.
Analysts said that makes even non-American companies and investors who want to do business with Tehran wary of being penalized by Washington. As a result, the economic gains Iran expected after it signed the deal have been stymied.

"Obviously such uncertainty has had a huge impact on foreign trade as investors remain wary and big banks have continued to stay away for fear of US sanctions," Mohammad Hashemi, a Tehran-based analyst, told Al Jazeera.