Saudi Arabia is stuck in Yemen quagmire, Iran says
March 12, 2018 - 21:53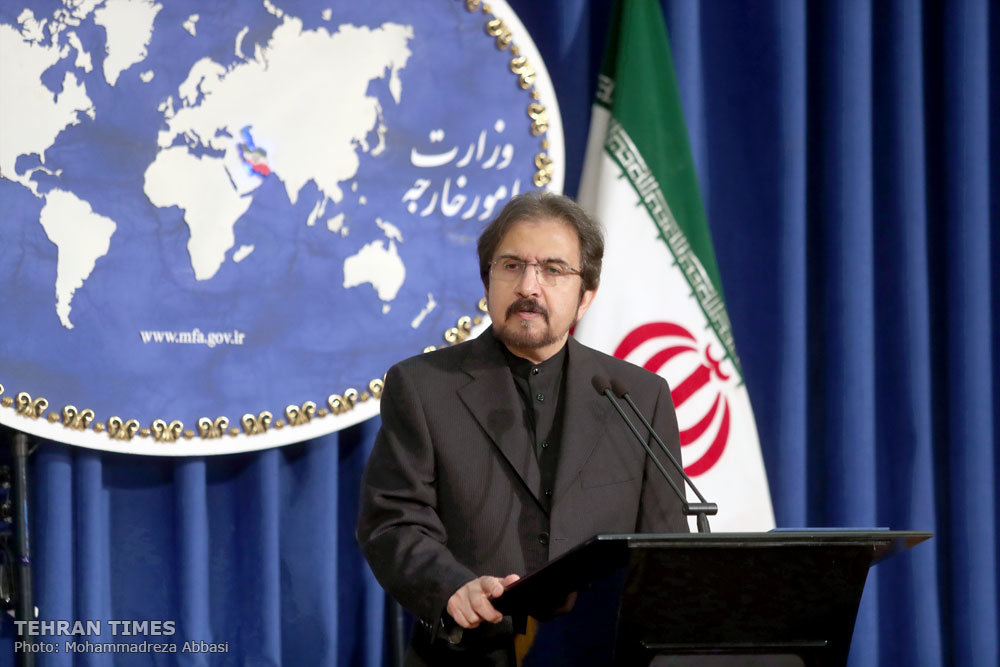 TEHRAN - Iranian Foreign Ministry spokesman Bahram Qassemi has said that Saudi Arabia is "frustrated" and is stuck in "the Yemen quagmire", ISNA reported on Monday.
"The Saudi Arabian officials' remarks indicate the Saudi Arabian government's frustration. This country assumed it could achieve its objectives in a short time when it started aggression against Yemen. However, after nearly three years, we are witnessing that Saudi Arabia is stuck in quagmire and could not reach its objectives," Qassemi said in an interview with the Al-Alam news network.
"Saudi Arabia has not learned that aggression against another country cannot last long and no one is able to ignore a nation's determination."He added, "Saudi Arabia has not learned that aggression against another country cannot last long and no one is able to ignore a nation's determination."
The Foreign Ministry official also dismissed accusations by Saudi Arabia and the United States that Iran has sent weapons to Yemen, saying Yemen has stockpiles of weapons and missile from the Soviet time.
Elsewhere, he noted that the Yemeni crisis can only be solved politically and through inter-Yemeni talks.
"Saudi Arabia should be forced to stop aggressions against Yemen. Ending military aggression against Yemen is the first step. Yemenis should enter political talks under the supervision of regional countries and international organizations and solve their problems," he said.
Commenting on the United Arab Emirates' role in the Yemeni conflict, Qassemi said, "The United Arab Emirates is also a partner in the issue of coalition against Yemen and I think that the Emirates' role is remarkable and cannot be ignored. The Emirates, like Saudi Arabia, should be accountable for aggression against Yemen."
Saudi Arabia launched military campaign against Yemen in March 2015 with the aim of eliminating the Yemeni Houthi Ansarullah movement and reinstalling the Yemen's former President Abdrabbuh Mansour Hadi, who has close ties with the Saudis.
Failing to achieve either of its goals, Riyadh has not stopped bombing Yemeni targets, creating a protracted conflict which has so far led to the killings of over 12,000 Yemenis and the destruction of the poor country's infrastructure.
In April 2015, Iranian Foreign Minister Mohammad Javad Zarif submitted a letter to Ban Ki-moon, then UN secretary general, outlining its four-point peace plan for Yemen.
The plan calls for an immediate ceasefire and end of all foreign military attacks, humanitarian assistance, a resumption of broad national dialogue and establishment of an inclusive national unity government.
'Iran has never interfered in Iraq's affairs'
Qassemi also said that Iran has never interfered in Iraq's internal affairs and will not do so in the future.
However, he said that Iran, as a friendly neighboring country, helps Iraq upon request.
Iran attaches great importance to Iraq's independence, territorial integrity and national sovereignty, the spokesman remarked.
The Iraqi parliamentary elections is scheduled to be held in May which will be the first elections since the fall of Daesh in the country.
Qassemi described the Iraqi elections as a turning point in the country's contemporary history.
The elections will help the process of democracy in Iraq, he said.
He added that Iran will support the Iraqi people's vote.
NA/PA