Iran poised to host 12th World Chambers Congress in 2021
March 18, 2018 - 22:35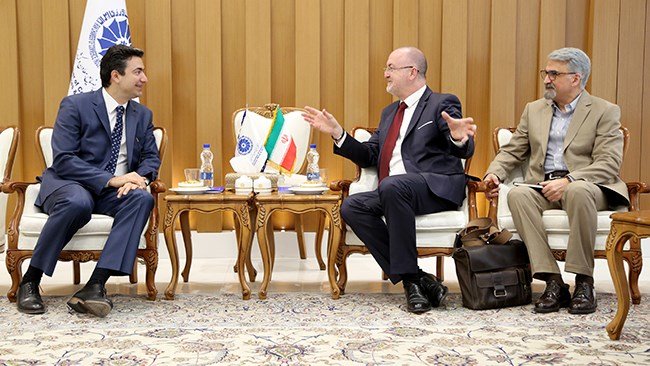 TEHRAN- Iran Chamber of Commerce, Industries, Mines and Agriculture (ICCIMA) Vice Chairman Pedram Soltani voiced Iran's readiness for hosting the 12th edition of World Chambers Congress in 2021, the portal of ICCIMA reported on Sunday.
In a meeting with Director of World Chambers Federation (WCF) at the International Chamber of Commerce (ICC), Anthony Parkes, who was in Tehran to evaluate conditions and facilities of the Iranian capital for hosting the congress, Soltani called hosting the congress a significant event for Iran specifically under its current economic conditions and cooperation with the world.
"Announcing tendency to host this congress sends a positive message from Iran to the world and reflects our country's potentials and facilities," he added.
The WCF official for his part, expressed content about his trip to Tehran adding that the city is for sure one of the suitable options for hosting the congress in the Middle East region and Africa.
Moving from region to region around the globe on a biennial basis, the WCC is the only international forum for chamber leaders and business professionals to share best-practices, exchange insights, develop networks and address the latest business issues affecting their communities. The prestigious event brings together over 1,000 delegates from more than 100 countries, making it an ideal and unique platform to foster positive development, cooperation and the advancement of bold initiatives.
The 8th World Chambers Congress in Qatar, 2013 was the last Congress to be held in the Africa and the Middle East region. Vying for the chance to showcase their nation's chambers as well as their country's appeal and potential, the finalists looking to co-organize the 12th World Chambers Congress in 2021 are:
Dubai Chamber of Commerce;
Ethiopian Chamber of Commerce (ECCSA);
Iran Chamber of Commerce (ICCIMA); and
Kenya National Chamber of Commerce and Industry (KNCCI).
From dedicated participation in previous congresses to leadership roles within WCF, these chambers each have shown their unwavering support of the global chamber movement and its ever-growing network. Commenting on the bidding process, WCF Chair Peter Mihok said: "We congratulate the four competing chambers for making it this far and are excited to see what each of them plan to highlight in their upcoming presentations."
The selected candidates are set to submit a first draft of their bid on 9 March. On 10 April, during the WCF General Council meeting in Beijing, each chamber will present their offers to win over the jury with visuals and reasons why their location would be the best destination for the Congress. The final version of each candidate's bid will be circulated on 24 April with the final announcement to be made in June 2018.
The next World Chambers Congress will be co-organized with the Brazilian Commercial and Business Associations (CACB) and held in Rio de Janeiro, Brazil, from 12-14 June 2019.
HJ/MA
PHOTO: ICCIMA Vice Chairman Pedram Soltani (L) and Director of WCF at the International Chamber of Commerce Anthony Parkes meeting at ICCIMA place