By M.A. Saki
Saudi prince's bombastic words do not worth attention
April 4, 2018 - 12:9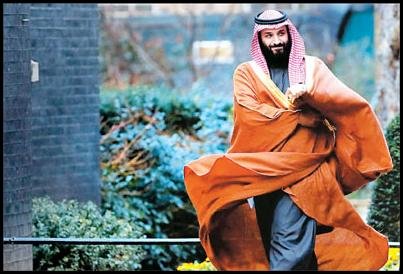 Again, this time in an interview with the Atlantic published on April 2, Saudi Crown Prince Mohammed bin Salman made harsh remarks against Iran, calling Iran part of the "triangle of evil" along with al-Qaeda, ISIS and other terrorist groups.
Also in an interview with the Wall Street Journal published on March 29, the crown prince talked about a possible war with Iran in 10-15 years.
Prince Mohammed, known by his initials as MbS, is extremely envious of Iran. He is being emboldened by Trump at the White House.
There are certain reasons why MbS is using such bad and threatening language against Iran once in a while.
He is resorting to such bombastic words against Iran to attract attention, please Trump and Netanyahu, deflect attention from the Yemen quagmire, and naively distort the history that Saudi Arabia has been and is still the chief financier and promoter of extremist ideology.
By classifying Iran in the "triangle of evil", MbS wants to whitewash the name of his country which is rightly synonymous with decapitation, tribalism, medievalism, backwardness, extremism, and terrorism.
For example when the Atlantic's Goldberg asks him that Wahhabist ideology is being promoted by Saudi Arabia through oil money before and after the 1979 revolution in Iran, he cunningly claims, "First of all, this Wahhabism—please define it for us. We're not familiar with it. We don't know about it."
Again, when Goldberg refers to the history of Wahhabism in Saudi Arabia and says "you're the crown prince of Saudi Arabia. You know what Wahhabism is", MbS claims "there is no Wahhabism".
However, such pretense of ignorance about Wahhabism and accusations against Iran will not change the truth. Can MbS destroy the truth that Saudis helped create the Taliban and recognize its regime? Can it remove the names of 15 Saudi nationals from the list of 19 Sept. 11 attackers? Can he move the birthplace of al-Qaeda from his tribal country to another place?
There are hundreds of other questions to ask.
So far, only the oil money has saved the Saudi regime and MbS' bombastic words do not worth attention or answer.