By Afshin Majlesi
Pakistan embassy shows solidarity with Kashmiris
April 7, 2018 - 10:49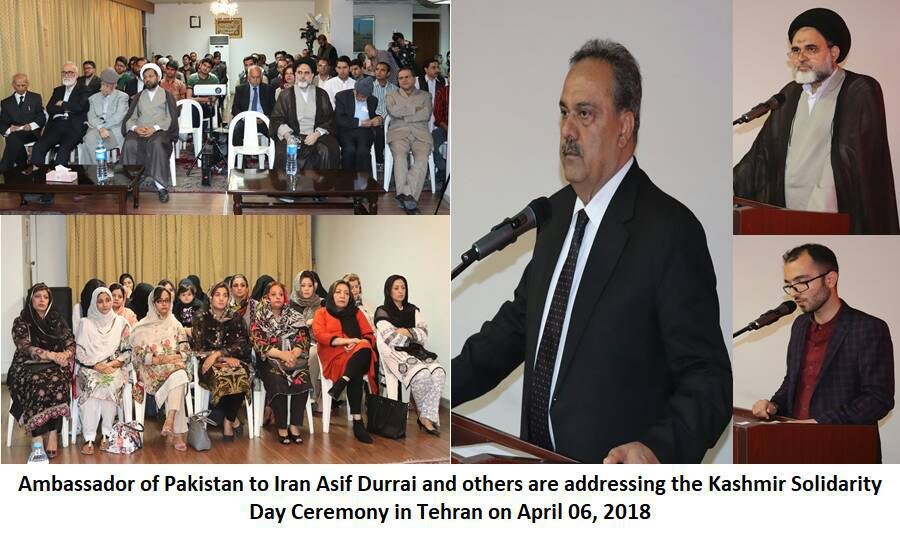 TEHRAN – The embassy of Pakistan in Tehran hosted a ceremony on Friday to express unity with the Kashmiri people who have long been struggling for self-determination.
The meeting was attended by a host of people from the Pakistani community as well as Iranian scholars, clergymen, academia and media personnel.
Speaking on the occasion, Ambassador Asif Durrani talked on the recent acts of violence against Kashmiri people committed by Indian forces.
The most current "brutal" use of force by the Indian forces has failed to stifle the indigenous struggle of the Kashmiri people who stand for their rights of self-determination, the ambassador said.
"The Indian Occupation Forces have perpetrated a reign of terror and bloodshed, martyred more than 20, blinded youths by using pellet guns and injured scores of innocent peaceful Kashmiris in different parts of Shopian and Anantnag districts during the last one week."
The Pakistani envoy urged the international community to press India to cease "the reign of terror" in Kashmir. He also called upon the permanent members of the United Nations Security Council to fulfill their commitments towards the people of Jammu & Kashmir under the UN Security Council resolutions.
Other speeches were made during the event and a short documentary film on Kashmiri civilians whose rights were denied by Indian forces was also screened for the attendees.
Kashmir Solidarity Day is widely marked across Pakistan and by Kashmiri nationalists worldwide on February 5.
AFM/PA