U.S. will 'regret' if it scraps nuclear deal, Rouhani warns
April 9, 2018 - 17:53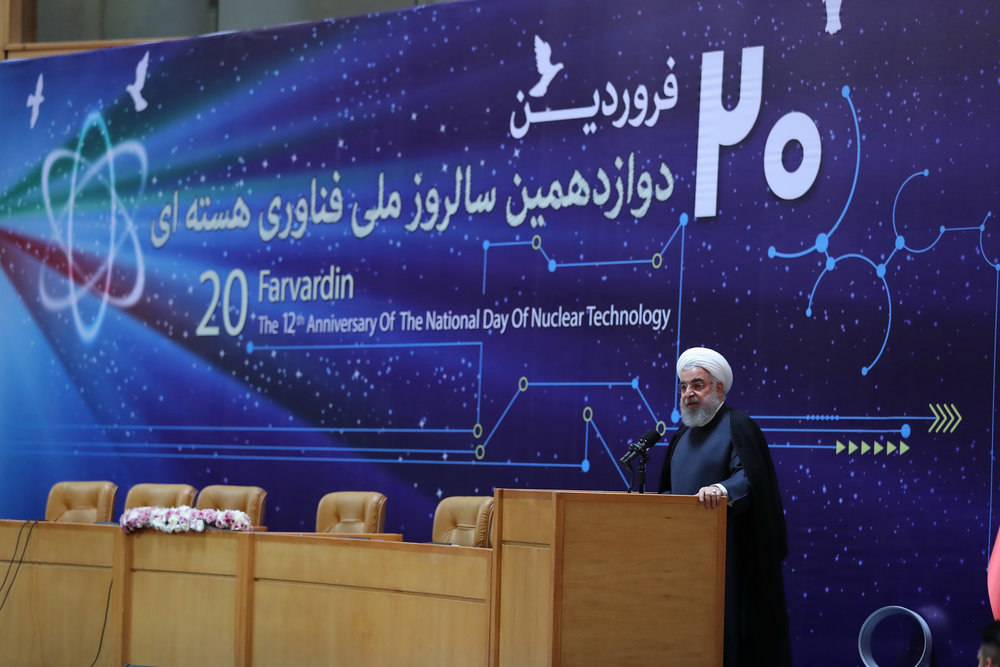 TEHRAN – President Hassan Rouhani warned on Monday that the United States will "regret" if it ditches the 2015 nuclear deal, officially known as the Joint Comprehensive Plan of Action (JCPOA).
"We will not be the first who violate the JCPOA. However, they will regret if they violate the deal," Rouhani asserted in an indirect reference to U.S. President Donald Trump.
Iran has threatened to resume enriching uranium to the purity level of 20 percent in four days if the nuclear deal is abrogated.
"Our readiness is more than what they think," the president said in a ceremony marking National Day of Nuclear Technology.
"They will see the consequences in less than one week if they renege on their promise," he added.
Rouhani also said Iran does not need anyone's permission for nuclear research and technology. However, he said, Iran is ready for interaction and cooperation with the world.
Pointing to 120 technological achievements in the nuclear field since the signing of the nuclear agreement, Rouhani said the progress of Iran's nuclear technology has not been slowed down.
Elsewhere, he said that the structure of the JCPOA is so strong that 15 months of unrelenting attacks by the U.S. president have failed to shake it.
"We have made preparations for all the possible scenarios. If the JCPOA stays or not, with the U.S. or without it, we are prepared. There will be no problem for our technology and our people's lives. Our people are more patient than what they imagine," he stated.
In a statement on January 12, U.S. President Donald Trump gave Europeans only 120 days to agree to an overhaul of the nuclear agreement. He threatened if the text of the nuclear deal is not revised he would unilaterally withdraw the U.S. from it. The deadline falls on May 12.
Rouhani added, "Our path is clear. We do not care about threats. Our capabilities, even the military ones, are not for aggression. Our relations with the neighbors will be friendly. Those who say unfair and wrong things will understand that those words do not benefit them."
He also said that Iran's missile program is just defensive.
"Our weapons are not for aggression against the neighbors. We want all the regional countries to be together as one great regional power and solve problems together."
NA/PA