By Mohammad Ali Haqshenas
Salt mining in Lake Urmia: Opportunity vs. threat
May 9, 2018 - 20:12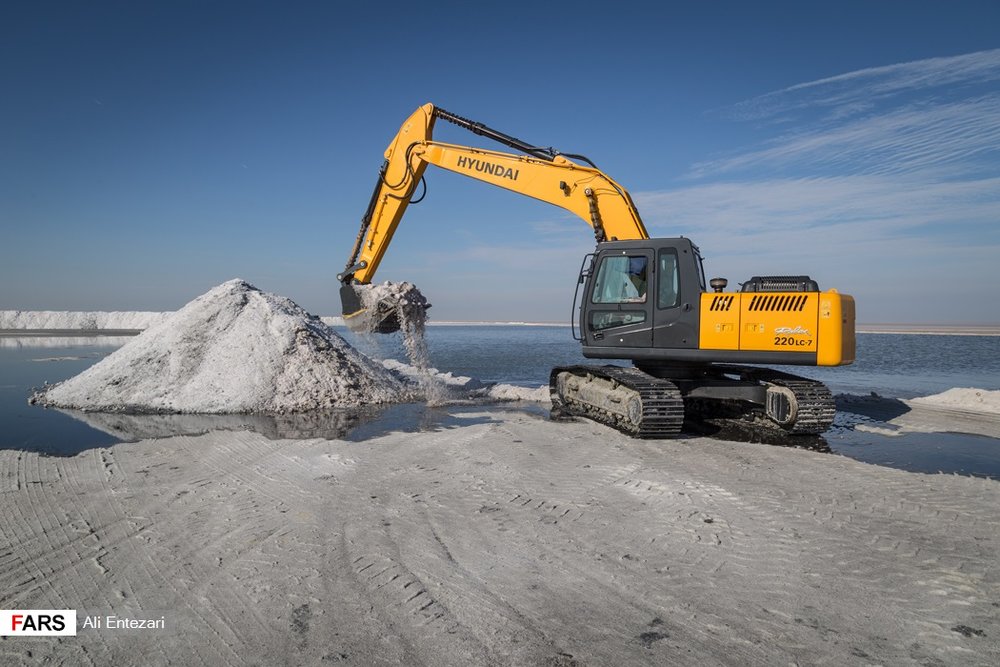 The dryness of Lake Urmia in recent decades has revealed great salt reserves in its bed. Estimations for the amount of salt in the lake varies from 6 to 10 billion tons. That's certainly a great potential for mining and has already tempted some individuals to extract some salt, however, there are different views on salt mining in the region.
Lake Urmia, in north-western Iran, was twice as large as Luxembourg and the largest salt-water lake in the Middle East. The volume of water at the lake measured at 30 billion cubic meters in 1997. However, after 2 decades, the water level has drastically decreased to only 2.5 billion cubic meters.
Low precipitation rate, water resources mismanagement and inefficient agricultural methods are believed to be the main culprits for converting the so-called "turquoise solitaire" to a partially dry and white surface.
The lake's great potential of salt mining
Salt reserves in Lake Urmia's bed is so vast that every human on earth can have more than a 1-tone share from it, said Masoud Tajrishi an official with Lake Urmia restoration program headquarters, IRNA reported in November 2015.
Iran's Geological Survey & Mineral Explorations Organization has been tasked to devise a comprehensive and scientific plan for efficient and standard exploitation of salt form the lake, he added.
Also in October 2017, when attending a meeting with representatives of mining companies, Tajrishi again touched on the great potential of salt mining in Lake Urmia and called for taking more serious action in this regard.
Any method for extracting salt and also issuing the license for salt mining should be based on comprehensive and academic studies, or else, we should wait for another environmental disaster in Northwestern Iran sooner or later.
Salt, a barrier to lake's restoration
The thickness of salt varies between 0.5 to 4 meters, said Naser Aq, deputy director of Lake Urmia Research Institute, affiliated to Urmia University, IRIB reported in October 2017.
Gradually these salt sediments turn to salt stones which are one of the barriers to Lake Urmia's restoration, he said, adding that even few millimeters of precipitation will stand above these salt stones and creates the illusion that the lake has been revived.
Lake Urmia's salt is a great opportunity for creating jobs and growing the economy of the region, the same report quoted MP Nader Qazipour as saying.
Only one company holds salt mining license
Only one company has been granted the license for extracting salt till date, said Amir Ranaqad, an official with Urmia department of environment, YJC reported in November 2017.
This company is mining salt in east coast of the lake and is required to meet standards defined by the Department of Environment, he said.
And in winters when salt is needed for defrosting roads, municipalities of the region extract some salt upon the permission of Department of Environment, he added.
Any digging of soft salts from the lake can lead to salt storms, the official warned.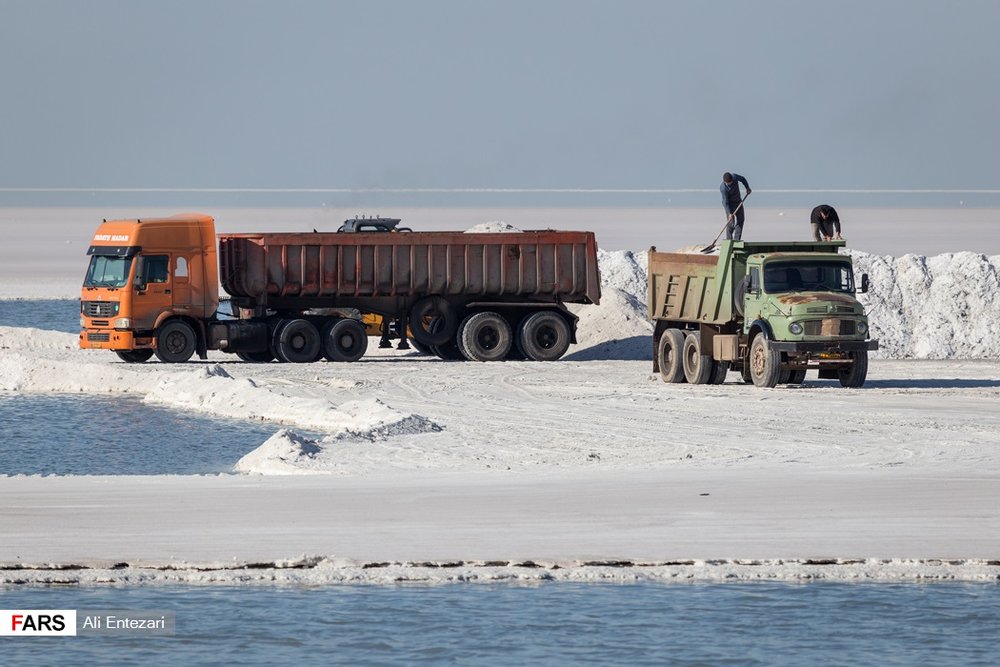 Main environmental effects
Non-standard salt mining approaches have caused great environmental discomforts in Aq Gonbad region, central east coast of the lake, said Mohammad Mosaferi, faculty member at Tabriz University of Medical Sciences.
Describing the process of salt extraction, he added that first, salts of the lake are being dug and piled up so that they lose their water and then, they are transferred by heavy vehicles to a company in Maragheh county, northwestern East Azarbaijan Province.
Also locals of the region illegally extract some salt and after packaging, sell it in the region and across other provinces, he highlighted.
The university professor emphasized that illegal and nonstandard salt mining has many detrimental effects on environment. Digging the lake's bed with loaders changes the topography of the region and creates deep pools which disturb the natural flow of water and ultimately, accelerate the lake's dryness he regretted.
Mining activities inevitably leads to producing waste which can further pollute the ecosystem of the region, Mosaferi noted.
The lake's salt is still being analyzed for existence of heavy metals and since there is no scientific result available in this regard, the salt shouldn't be consumed in foods, he said, warning that the salt is being sold as a souvenir of Urmia and is introduced as being remedial.
"What are the scientific criteria behind salt mining license granted by the Department of Environment and has there any researches carried out on the effects of salt extraction on the region's environment?," Mosaferi asked.
Benefits of sea salt
Sea salt is produced through evaporation of ocean water or water from saltwater lakes, usually with little processing. Depending on the water source, this leaves behind certain trace minerals and elements. The minerals add flavor and color to sea salt, which also comes in a variety of coarseness levels.
According to Steptohealth.com consuming sea salt has many benefits including strengthening the immune system, helping to alkalize the body, protecting cardiovascular health, relieving muscle aches, fighting depression and promoting digestion among others.
The argument regarding salt mining in Lake Urmia is like this; sea salt is beneficial and applicable in foods and industries, we have a great salt mine which has the staggering 10 billion tons of salt, we need to create jobs and grow the economy of the region, so let's start salt mining. Although reasonable, there is an important factor missing here: scientific researches. Any method for extracting salt and also issuing the license for salt mining should be based on comprehensive and academic studies, or else, we should wait for another environmental disaster in Northwestern Iran sooner or later.
MAH/MG