'Salt particles raising from Lake Urmia contained by 80%'
November 4, 2018 - 1:30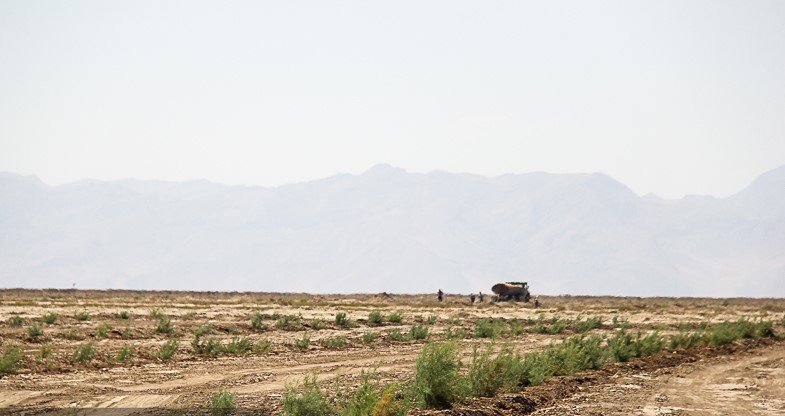 TEHRAN – Salt particles raising from the catchment basin of Lake Urmia has been contained by nearly 80 percent, Farhad Sarkhosh, head of the provincial department for the Lake Urmia restoration program at West Azarbaijan has said.
Lake Urmia, shared between West Azarbaijan and East Azarbaijan provinces, used to be the largest salt-water lake in the Middle East. It was a home to many migratory and indigenous animals including flamingos, pelicans, egrets and ducks and attracted hundreds of tourist every year who had taken a trip to take advantage of the therapeutic properties of the lake.
However, the lake started to shrink in 1990s. The drastic decrease of the lake water level over the past 20 years has seriously affected the lake's wildlife and human ecology.
In cooperation with the Forests, Range and Watershed Management Organization, some saplings and shrubs have been planted in the catchment basin of Lake Urmia to slow down the wind giving rise to salt particles since past three years, which cost 600 billion rials (nearly $14 million), Sarkhosh said.
He went on to say that the major salt particle hotspots in the West Azarbaijan province include Jabal Kandi village in Urmia County, Saporghan, Urmia, Choopanloo and Miandoab, which are highly contained by planting vegetation, ISNA reported on Saturday.
According to the law, agricultural development around the lake's basin is banned, and investigation results demonstrated that no land seized illegally for the agricultural development, he highlighted.
"Currently, the water level of the lake is 1,270.23 centimeters which experienced a 3 centimeter increase compared to the same period last year," he said, adding that the volume of water also is measured at 980 million cubic meters.
FB/MQ/MG