A good start for Iranian women's presence at stadiums
July 3, 2018 - 8:14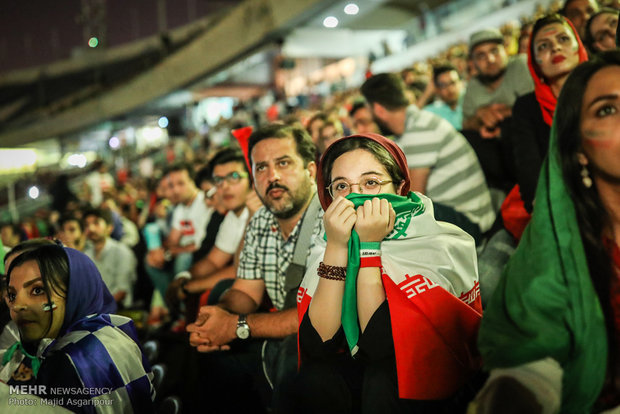 TEHRAN – The presence of women at Tehran's Azadi stadium for a screening of Iran's World Cup match against Spain on June 20 was a good start for other legitimate freedoms, Mohammad Mehdi Tondgooyan, deputy minister of sports and youth affairs, has said.
Women's presence at stadiums would help promoting legitimate freedom in other cultural, artistic fields, the deputy minister noted stressing on creating more freedom and social happiness.
No organization expressed opposition for women's presence at Azadi Stadium, watching the televised World Cup 2018 games, Mehr quoted Tondgooyan as saying.
The issue was raised at Iran's social council [headed by the Interior Minister Abdolreza Rahmani Fazli] and none of the organizations opposed the decision, he noted.
Watching sports events is one of the least important legitimate rights of people in any society which create sympathy and unity among a nation, Tondgooyan stated.
Watching Iran-Spain game with all members of the family was a positive event which created a mental recreation for the society, he added.
Women were already allowed to watch volleyball and basketball events, he added.
Tondgooyan noted that presence of women at stadiums is the first step and grounds should be paved for women's presence in all fields considering their dignity.
Iran's female football supporters made history in Tehran – for the first time in 37 years they were able to attend a sporting event in the city's Azadi stadium.
NM/MQ/MG