Hour al-Azim wildfire still causing great discomfort
July 25, 2018 - 9:3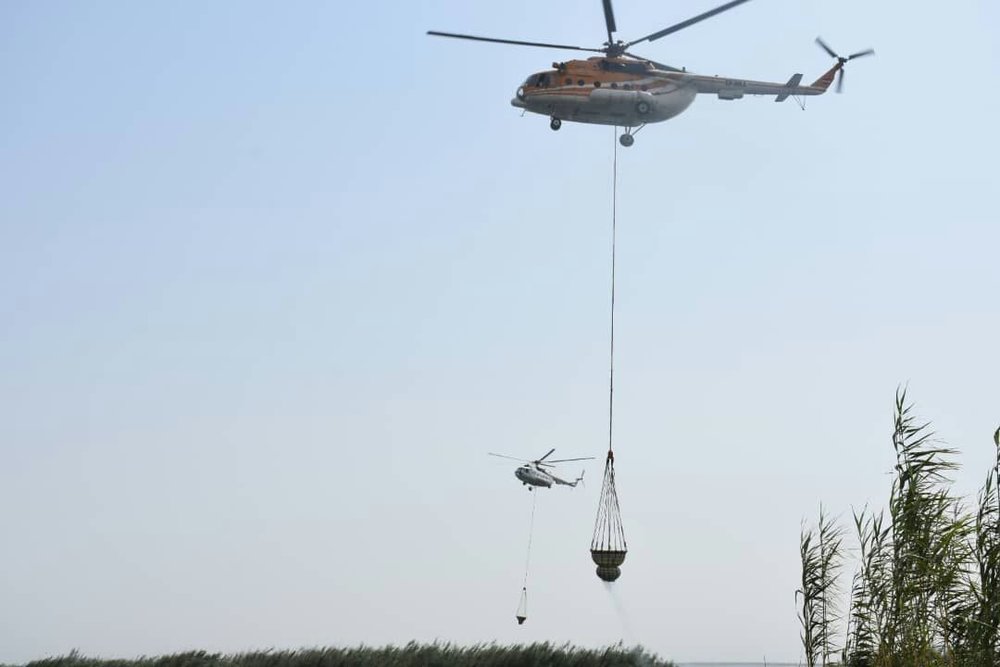 TEHRAN – Wildfire which is still haunting Hour al-Azim wetland, is not only causing great discomfort to the people in southwestern Iran, but posing serious threats to the region's biodiversity, Mehr reported on Monday.
The raging fire sweeping through Iraqi part of Hour al-Azim which started on July 2, has caused air pollution and breathing difficulties for people of Khuzestan province in southwestern Iran.
Fire also broke in canebrakes in Iranian parts of the wetland located in Khuzestan, but it is soon extinguished by Iranian firefighters.
The smoke choking out of the wildfire has crossed the border into the city of Howeyzeh and drifted over 115 kilometers to reach Mahshahr affecting Rafie, Susangerd, Bostan, Hamidieh and Ahvaz on its way.
Consequently, the officials decided to close down all banks and offices in three cities of Hamidieh, Howeyzeh and Dasht-e Azadegan, due to the increased concentration of smoke, the report added.
The extent of the burnt lands from 10,000 hectares at the beginning soon increased to 18,000 hectares, Fars reported on Tuesday.
Aerial firefighting
Chief of Khuzestan province department of environment Ahmadreza Lahijanzadeh noted that it was anticipated that the fire would have been extinguished within two days, but many problems in the Iraqi part of the wetland such as extreme dryness, lack of constant supervision and an accountable body made all attempts to put out the fire futile.
Also, southward winds ignite the fire as the southern parts of the wetland are dried and more prone to catch fire, he added.
He also mentioned that due to the precarious situation of Iraq and the swampy areas around the wetland, aerial firefighting was needed to combat the fire, so, Iran suggested dispatching aircrafts to contain Hour al-Azim wildfire.
"While two helicopters have been dispatched to put out the fire in Hour al-Azim on July 21, the lands are still burning due to the critical severity of the incident," he lamented.
He also stated that another helicopter will also be added to the two helicopters currently in the operation.
Respiratory diseases on the rise
Shokrollah Salmanzadeh, head of Khuzestan province healthcare center, for his part, said that respiratory disease have been intensified in the southwestern border region of the country, as the fire produces a complex toxic involving flame, heat, oxygen depletion, smoke and toxic gases.
In case of smoke inhalation, people with a sensitive lung and susceptible to pulmonary disease including asthma, may develop an acute respiratory infection, he added.
He also explained that those who suffer acute respiratory infection, need immediate treatment, and if not treated, their lives will be compromised.
Animal species victims of Hour al-Azim wildfire
Deputy director for natural environment at Khuzestan province department of environment Adel Mola said that smoke is initially harmful to human being, but the fire is also dangerous to animal species as well, however no details is revealed on animal casualties so far.
He went on to say that wildfire has many harmful effects on animals, including destruction of bird nests and damages to domestic animals and livestock, such as burning. Three heads of buffaloes have been burnt in Hour al-Azim wildfire, which are undergoing treatment.
The Euphrates softshell turtle specie in Hour al-Azim wetland, which is on the verge of extinction, is also severely endangered, he regretted.
"There are nearly 120 snake species in the wetland, which are also at risk, will surely suffer loss," Mola concluded.
FB/MQ