Hour al-Azim still on fire, belching acrid smoke into Khuzestan sky
September 11, 2018 - 17:33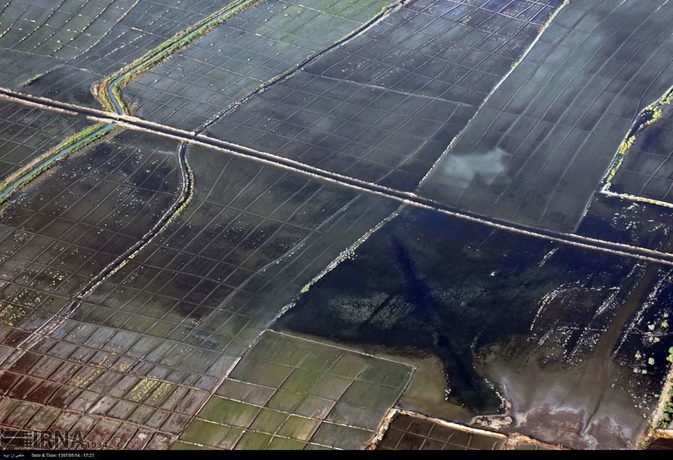 TEHRAN — It's been over 65 days since Hour al-Azim wetland, a transboundary body of water shared between Iran and Iraq, has erupted in raging fire and now large amounts of acrid smoke is being spread in the cities of Abadan and Khorramshahr in southern parts of Khuzestan province.
According to ISNA news agency over the past two and three days the smoke rising from the fire in the Iraqi part of the wetland has been billowing in Abadan and Khorramshahr.
Ali Fat'hi-Nia, chief of Abadan department of environment said on Monday that with the onset of autumn the climatic conditions of the area is changing and northerly winds are pushing the fire smoke into the western cities in the province.
Earlier the wildfire was belching out choking smoke in cities including Ahvaz, Howeyzeh, Mahshahr, Susangerd, Hamidiyeh and Bostan located in western parts of Khuzestan province.
Deputy environment chief Masoud Tajrishi also said on Monday that it is almost impossible to put out the fire on land and using aircrafts to contain the fire has so far worked to some extent, Fars news agency reported.
Tajrishi also said that over a phone conversation he had two weeks ago on his trip to Khuzestan with Iraqi environment minister he invited him to Iran to negotiate the issue.
He also highlighted that the wetland is completely dry in Iraq and as soon as the fire is extinguished it will break out again, but the wetland doesn't catch fire in Iran as it is covered in shallow water.
On Saturday, head of Khuzestan province's department of environment Ahmadreza Lahijanzadeh explained that if the fire continues in the region the number of birds migrating to the wetland since mid-autumn will certainly decrease.
MQ/MG