Asia Cooperation Dialogue meeting opens in Hamedan
August 27, 2018 - 17:28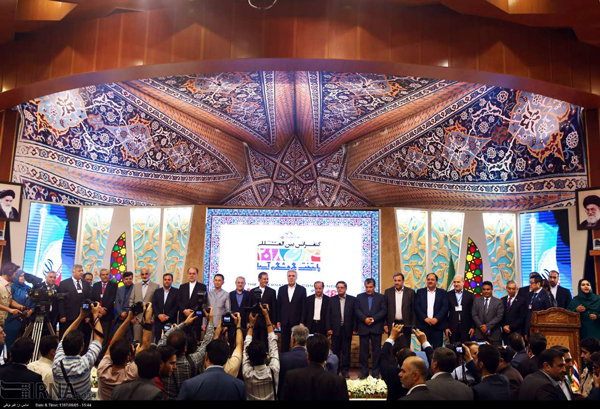 TEHRAN – Amid hopes to provide ample opportunities for development of tourism in Hamedan, the conference of Asia Cooperation Dialogue, titled "ACD Tourism Capital, 2018", opened in this ancient city in western Iran on Monday.
Teemed with natural and historical sites, Hamedan has taken on appearance of the "capital of Asian tourism in 2018", which was approved in the second ACD Tourism Ministers Meeting hosted by Cambodia in June 2017.
The opening ceremony was attended by Vice President Es'haq Jahangiri, tourism chief Ali-Asghar Mounesan, ACD Secretary General Bundit Limschoon and invitees from Afghanistan, Iraq, Cambodia, Azerbaijan, Japan, Georgia, Vietnam, South Korea, the Philippines, Bangladesh, Uzbekistan, Pakistan, Indonesia, Thailand, Sri Lanka and Spain.
Iran assumed the chairmanship of the Asia Cooperation Dialogue for the year 2017-2018. It will host the third ACD Summit in autumn. The previous two editions were held in Kuwait and Thailand, respectively.
The ACD was established as an inter-governmental organization in 2002 with aims to promote interdependence among Asian countries and expand the trade and financial market among the member states.
Known in classical times as Ecbatana, Hamadan was one of the ancient world's greatest cities. Little remains from its antiquity, but significant parts of the city center are given over to excavations.
Ali Sadr cave, Ganjnameh inscriptions, Avicenna mausoleum, Hegmataneh hill, Alaviyan dome, Jameh mosque, and St. Stephanos Gregorian Church are amongst Hamedan's attractions to name a few.
ACD says ready to help Iran to develop tourism industry
Addressing the conference, Limschoon said the Asia Cooperation Dialogue is ready to assist Iran with its tourism development program.
"And the ACD can also work in the field of investment," Limschoon stated during a keynote speech at the opening ceremony of the conference.
The ACD will strive to expand investment and partnership in the development of tourism in Iran, Limschoon told the participants.
The ACD chief pointed to the international conference as an opportunity to help Hamedan rise to worldwide fame, saying, "We hope that Hamadan to convey a new image of Iran."
He went on to say that Iran, which is a cradle of human civilization, can be introduced to the world as a new travel destination.
Iran can be introduced to the world as a new destination for tourism by ancient Persian stories and narratives, the ACD secretary general stated.
"Hamedan's beauty and culture are well-known among the ACD members," he concluded.
Speaking at the conference, Jahangiri also said Iran is determined to bolster its tourism industry.
"We consider the development in this area as a necessity," Jahangiri stated, adding, "We are determined to remove obstacles to the tourism industry."
The vice president said Iran is ready to receive offers from Asian countries to develop its tourism sector.
The vice president went to say that his country is eager to exchange experiences in tourism industry with all countries around the world.
He also said Iran seeks joint ventures on medical tourism and so on.
AFM/PA