Iranians' progress cannot be stopped, Rouhani says
September 5, 2018 - 1:29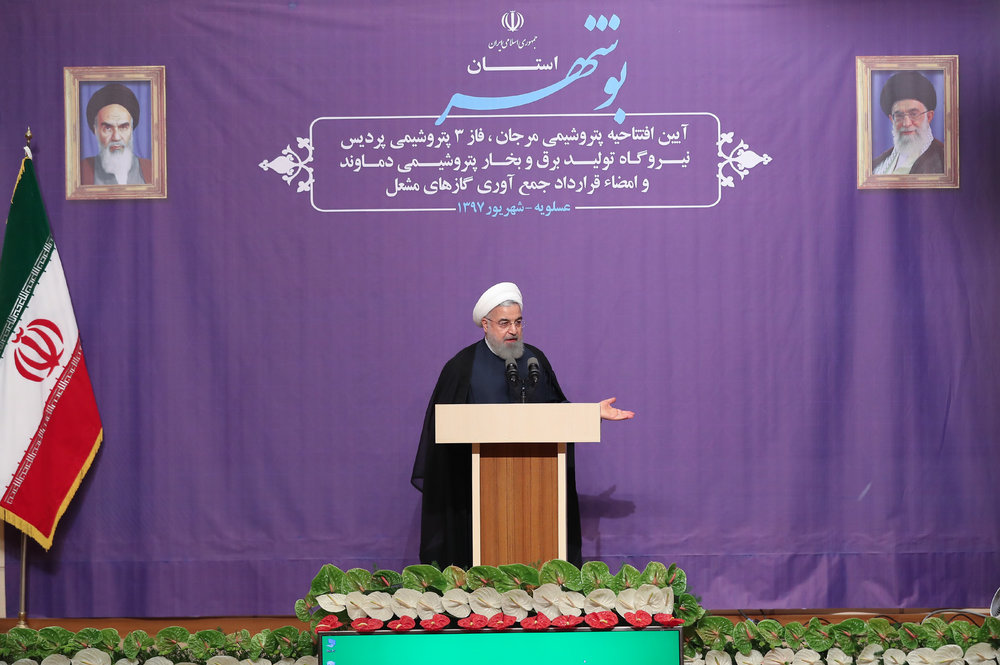 TEHRAN – President Hassan Rouhani said on Tuesday that the Iranians' progress cannot be stopped, expressing confidence that Iranians will overcome the problems resulting from the return of sanctions.
"Enemies impose problems on the people, but it is impossible that they subjugate Iran and the Iranians and take us back to the year before 1357 [the 1979 Islamic Revolution]. This is an illusion which cannot be realized," Rouhani said during a ceremony inaugurating the Marjan, Damavand and Pardis petrochemical plants on the shores of the Persian Gulf.
Rouhani went on to say that the enemies have entered a new phase of plots against Iran.
"Those who sought to prevent our victory in the revolution and the eight-year sacred defense, but failed today they have started to hatch new plots," he stated.
Iran refers to the Iraqi war against Iran in the 1980s as sacred defense.
Noting that the people are facing new economic problems with the return of sanctions, Rouhani said enemies can only succeed when the people lose their hope.
"Enemies will surely be defeated if we continue our efforts."
He added, "Enemies cannot reach their objectives and it is clear for us as a daylight."
Elsewhere, he said that petrochemical and oil industries form the cornerstone of the fight against sanctions.
"Today, economic and psychological wars are being conducted against the Iranians and petrochemical and oil industries are in the frontline in these wars," he remarked.
He said the development of petrochemical projects are the right step in line with creating jobs, implementing resistance economy and increasing national income.
U.S. President Donald Trump withdrew Washington from the nuclear deal on May 8 and ordered restoration of sanctions against Iran.
The first batch of sanctions was snapped back on Monday, August 6. The second batch will be restored on November 4.
Trump has asked countries to cut their oil imports from Iran by November.
Back in May, U.S. Secretary of State Mike Pompeo said that Washington will apply economic and military pressure against Iran and will impose "the strongest sanctions in history" on the Islamic Republic.
NA/PA