Rouhani, Putin, Erdogan stress co-op until terrorists routed in Syria
September 7, 2018 - 18:41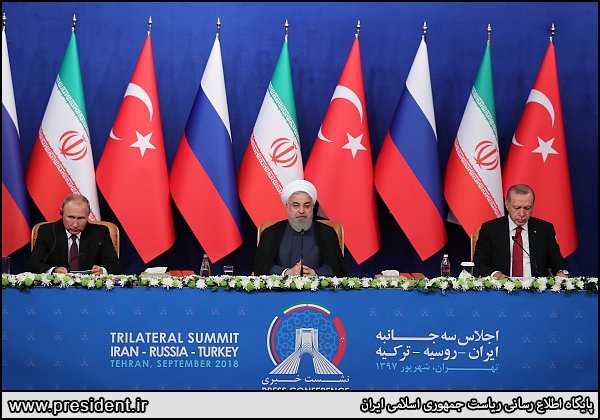 TEHRAN - Iranian President Hassan Rouhani, Russian President Vladimir Putin and Turkish President Recep Tayyip Erdogan who had gathered in Tehran on Friday for a trilateral summit on Syria issued a joint statement reaffirming their respective countries' determination to continue cooperation until full eradication of terrorist groups in Syria.
Following is a summary of the statement issued at the end of the Tehran summit:
The parties reaffirmed their determination to continue cooperation in order to ultimately eliminate Daesh, al-Nusra Front and all other individuals, groups, undertakings and entities associated with al-Qaeda or Daesh, as they have been designated as terrorists by the UN Security Council.
They also emphasized their strong and continued commitment to the sovereignty, independence, unity and territorial integrity of the Syrian Arab Republic as well as to the purposes and principles of the UN Charter and highlighted that they should be respected by all.
They also stressed their conviction that there could be no military solution to the Syrian conflict and that it could only end through a negotiated political process.
The trio also urged the need to support all efforts to help all Syrians restore their normal and peaceful life and to alleviate their sufferings. In this regard, they called upon the international community, particularly the United Nations and its humanitarian agencies, to increase their assistance to Syria.
They also highlighted the need to create conditions for the safe and voluntary return of refugees and internally displaced persons to their original places of residence in Syria.
SP/PA