National document on disabled-accessible cities approved
September 13, 2018 - 10:53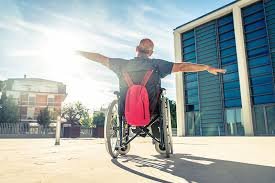 TEHRAN – A national document which assigns all responsible organizations related tasks on improving accessibility in cities for persons with disabilities, has been approved, an official with the Welfare Organization has said.
The national strategic document will be unveiled next month (September 23-October 22) by the head of the Welfare Organization, IRNA quoted Ebrahim Kazemi Momen Saraei as saying on Tuesday.
The document describes strategies and plans to construct all buildings accessible to people with disabilities, and the country's headquarters for increasing the cities' accessibilities must follow up the strategies and regulations, he added.
He went on to explain that the document is intended to describe the current situation of the country regarding the suitability of paths and buildings for the disabled, adding, "it also analyzes the internal and external environment on how to fit the necessary standards for accessibility, and, devises a roadmap for the special working group to make the cities more disability- friendly."
Experts have been working on the national document for about two years and have outlined their perspectives to reach the ideal roadmap for increasing the cities accessibility, he said.
The national document includes a five-year action plan which analyzes the country's weaknesses and strengths being accessible for the people physically challenged, with the participation of representatives of the country's responsible bodies and NGOS, he concluded.
Earlier in July, the director of Iranian association for rights of persons with disabilities Ali Hemmat Mahmoudnejad said that a social working group tasked with increasing Tehran's accessibility was established at Tehran's Municipality, which has planned to equip 22 parks with accessible restrooms and drinking fountains for people with disabilities.
Majlis [the Iranian parliament] approved both general outlines and details of a bill on rights of persons with disabilities on January 2018. Development of disability-friendly cities, free transportation, health insurance, free education, job creation, housing loans, and less working hours are some of the articles of the law which are hoped to improve such groups' living conditions in the near future.
FB/MQ/MG