By Mohammad Homaeefar
Rouhani backs Zarif over money laundering remarks
November 21, 2018 - 20:18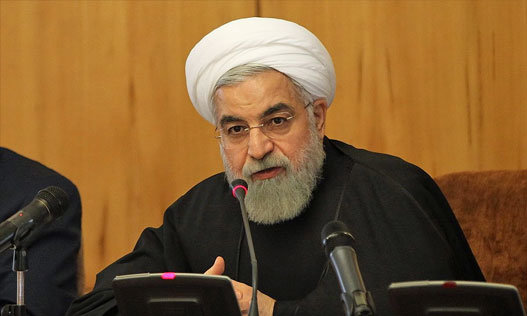 TEHRAN – President Hassan Rouhani on Wednesday defended the recent remarks made by Foreign Minister Mohammad Javad Zarif about money laundering, saying not just Iran but the entire world is suffering from money laundering.
In an interview with the Khabar Online published on November 10, Zarif said, "After all, money laundering is a reality in our country and there are many who benefit from money laundering."
He added that those who profit billions of dollars from money laundering are spending millions of it to prevent the passage of the bills requiring more financial transparency.
The comments triggered a wave of enraged responses from some conservative politicians, who called for the impeachment of the foreign minister.
Speaking at Wednesday's cabinet meeting, Rouhani said, "Why do we fight over such obvious issues? Yes, the entire world is suffering from money laundering. Show me one country in the whole world in which money laundering does not take place and show me one country in the whole world in which corruption, narcotics and fake products do not exist."
"All of us should strive against money laundering and corruption," he said, rhetorically asking, "Why are we bickering with each other so much?"
The chief Iranian diplomat was also summoned for more explanation to the Majlis National Security and Foreign Policy Committee, forcing him to reiterate that he had not accused any state-run institution of money laundering.
On Monday, Judiciary Chief Ayatollah Sadeq Amoli Larijani criticized Zarif's remarks, saying, "If widespread money laundering exists in the country, why haven't you reported this issue to the Judiciary?"
While maintaining that such statements should not be used as tools to put pressure on the administration, Amoli Larijani also warned that the authorities "should not utter words that will be thrust into the heart of the system like a dagger."
On Tuesday, MP Hossein-Ali Haji-Deligani said the motion to impeach Zarif because of his failure to present evidence for his claims has been made and signatures are being collected.
Responding to criticisms, Rouhani further said corruption, bribery and drug addiction exist in Iran, and "we should not get angry with someone for stating these issues."
Presidential chief of staff Mahmoud Vaezi also openly sided with the foreign minister. "Zarif's stance is correct, and it is in fact the administration's stance," he told reporters on the sidelines of Wednesday's cabinet meeting.
Vaezi expressed regret that "despite his correct stance, certain individuals attack Mr. Zarif because of their enmity towards him for some of the measures he has taken."
MH/PA