Defense minister says Iran can't abandon boosting military power 'even for a second'
December 16, 2018 - 20:56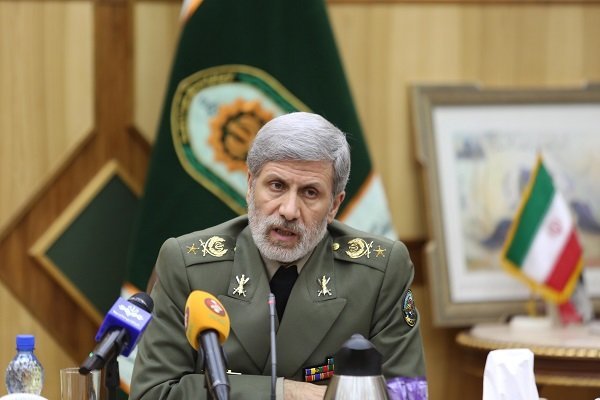 TEHRAN - Defense Minister Amir Hatami said on Sunday that Iran cannot abandon boosting its military capabilities "even for a second" in view of threats against the country.
The remarks by the defense minister comes as the United States has created a commotion over a test of mid-range ballistic missile by Iran, claiming that the test contravenes the resolution 2231 which endorsed the 2015 nuclear agreement. U.S. Secretary of State Mike Pompeo even attended a UN Security Council session on December 12 to create a consensus against Iran. However, he failed.
"Today, the enemies are disappointed with threatening [Iran] and exert pressure against us about missiles out of frustration. We know well that we cannot ignore boosting defense capability even for a second," he said during a conference at the Defense Ministry.
Speaking at the Doha Forum on Saturday, Foreign Minister Mohammad Javad Zarif said Iran's missiles are for defensive purposes and reiterated that the country's missile program is "not negotiable".
"Iran's missiles are defensive. We need them for deterrence. We use far less for military than anybody else in the region and that is why we have said from the beginning that our missiles are not negotiable."
'Relying on the Leaders' guidelines'
Defense Minister Hatami went on say that Iran would strengthen its defense capabilities and deterrence power by capitalizing on the guidelines set by Leader of the Islamic Revolution Ayatollah Ali Khamenei.
Hatami added that the Leader's guidelines have foiled the U.S. plots to destabilize the Middle East region.
Referring to inauguration on the Kowsar fighter jet, Hatami noted that the Defense Ministry follows the Leader's guidelines and does not depend on foreigners for military equipment.
On November 3, the Defense Ministry inaugurated production line of the homegrown supersonic Kowsar fighter jet.
Kowsar is an advanced fighter jet with a close air support (CAS) role that has made Iran one of the few countries with the know-how of designing and manufacturing such jets equipped with the 4th generation avionic and fire-control systems.
Hatami said in the inauguration ceremony that production of the fighter jet is a symbol of resisting the hegemonic system and its excessive demands.
He noted that production of the fighter jet was a big step in line with reducing effects of sanctions and boosting defense capabilities.
The defense chief added that the country will manufacture more advanced generations of the warplane in the future.
NA/PA