Bronze-Age skeleton, objects unearthed
February 2, 2019 - 21:34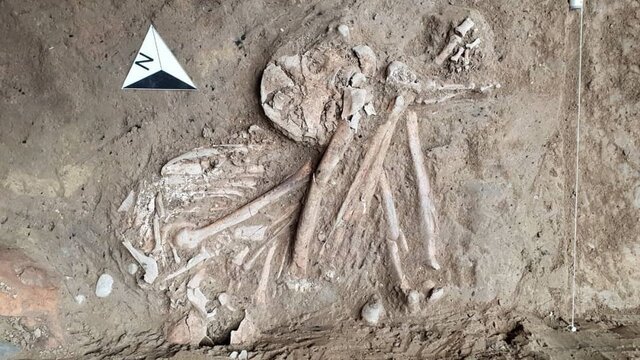 TEHRAN - A human skeleton and related objects, dating from the Bronze Age (c. 3300–1200 BC), have recently been unearthed in Bandpey rural area, Mazandaran province, northern Iran.
An adult-size skeleton, which was laid to rest in a fetus-shaped position, was found adjacent to a kiln, itself dating from the Bronze Age, ISNA reported on January 30.
The discovery was made by a team of Iranian archaeologists following some 40 days of excavation.
The team dug three trenches, one of which yielded intact soil in the depth of ten meters. Another one was embedding the human remains in the depth of nine meters, archaeologist Sahar Aghajan-nasab explained.
"In Bronze Age, the deceased were buried in the form of a fetus beside a kiln during special ceremonies and such a ritual was customary at that time," the archaeologist added.
Earlier in January, some tomb chambers were unearthed from an ancient graveyard in Rostamabad, northern Gilan province. One of the tombs contained a human skeleton, a sword and pottery vessels full of animal bones, which may refer to food offering to the deceased person.
AFM/MQ/MG