Italian ambassador donates sculpture to Music Museum of Iran 
February 15, 2019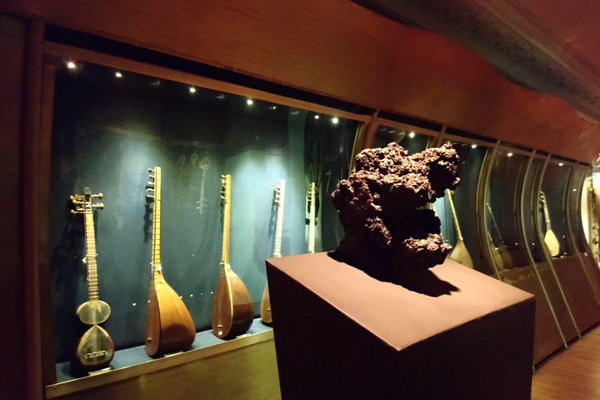 TEHRAN – Italian Ambassador Mauro Conciatori donated an artwork made by Iranian sculptor Bijan Basiri to the Music Museum of Iran in Tehran on Thursday.
The sculpture is from Basiri's series "Hermes" that he previously had presented to the Embassy of Italy, the Persian service of MNA reported on Friday.
The sculptures in the series have been made of metal, lava and graphite between 1994 and 2015. The sculptures, each resembling the heads of monsters and animals like dinosaurs, have been fixed on 2-meter-high metal poles.
Speaking at the unveiling ceremony of the sculpture, Conciatori called the museum the best location to preserve the artwork, and said that the sculpture was born from within the heart of history and can draw the attention of every visitor.
He said that he believes what master Basiri has made is both audio and visual, and when it is mixed with music, it can make a powerful impact on the mind of very visitor.
The managing director of the museum, Ali Moradkhani, also expressed his happiness over this cultural act and praised Conciatori for his cultural activities in Iran.
"I hope the museum would be hosting more works by master Basiri in the future," Moradkhani added.
Photo: This picture shows a sculpture from Iranian artist Bijan Basiri's series "Hermes" donated by Italian Ambassador Mauro Conciatori to the Music Museum of Iran in Tehran on February 14, 2019. (MNA)
RM/MMS/YAW