UNHCR Iran air freight of aid lands in Tehran to contribute towards government-led flood relief efforts
April 13, 2019 - 12:8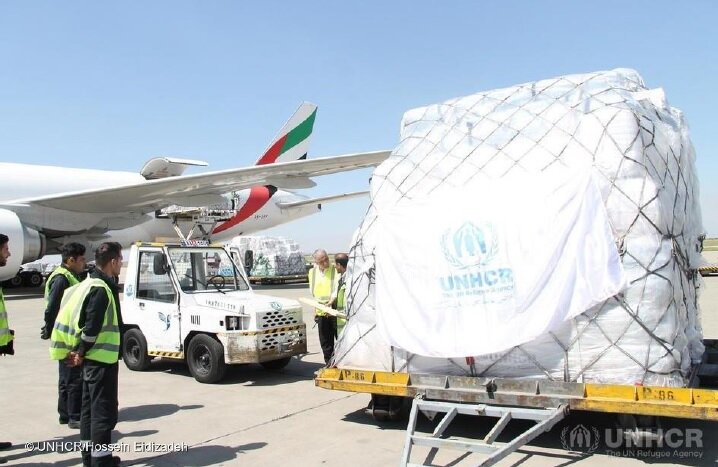 Unprecedented heavy rains and flooding in the Islamic Republic of Iran have swept over much of the country, affecting 24 of its 31 provinces. According to latest government estimates, since 19th March 2019, 70 people have died and over 1,000 have been injured. Displacing an estimated 500,000 people, the floods have left over 2 million in need of immediate humanitarian assistance, including refugees living in Iran.
As part of government-led relief response and coordination efforts, national actors have been able to provide assistance to people in need, including foreign nationals, however reportedly more than 100,000 people are in emergency temporary shelters and thousands of houses have been partially damaged or totally destroyed altogether.
Six provinces in the worst-hit area of western Iran and bordering Iraq remain in a state of emergency. Thousands of refugees reside in these provinces, largely in urban dwellings where they live side-by-side with host communities. Concerned over the needs of refugees and host communities, UNHCR Representative in Iran, Ivo Freijsen comments, "Generously hosting close to 1 million refugees over four decades, potentially thousands of Iran's large refugee population could be affected in these six provinces."
Prompted by the seriousness of the situation, UNHCR took an early decision, in coordination with the Bureau for Aliens and Foreign Immigrants Affairs of the Ministry of Interior (BAFIA), to use existing in-country resources including blankets, sleeping mats, jerry cans and kitchen sets to assist government-led relief efforts. Mr Friejsen explains, "Drawing on additional HQ reserves, UNHCR has now dispatched 1,000 tents and other relief items from its global stockpile, which landed in Iran by air freight on 10 April 2019 and will be distributed in coordination with the government to the most affected communities, including refugees, as soon as possible."
Speaking during a joint mission to the affected province of Golestan in northeast Iran, UNHCR Representative in Iran, Ivo Freijsen, lauds the government for its swift action and ongoing efforts to respond to the needs of refugees and host communities across the country. "UNHCR commends the Government of Iran's ongoing emergency response which has been directed at both Iranians and refugees alike, and appreciates its willingness to engage with UNHCR and the wider UN family in Iran."
With further heavy rainfall anticipated and over 10 million individuals affected so far, UNHCR continues to work alongside its main counterpart, BAFIA, to support government assistance efforts, particularly in refugee populated locations. "In coordination with BAFIA, we are doing all we can to assess the conditions and reach those most in need", Mr. Freijsen adds.
Providing for close to 1 million Afghan refugees and almost 30,000 Iraqi refugees, the Islamic Republic of Iran is currently one of the largest refugee hosting countries in the world. Of these refugees, 97 per cent reside in urban areas, side-by-side with Iranian host communities. The remaining three per cent live in 20 government-run refugee settlements. In addition to Afghan refugees, government estimates indicate that there are 1.5 to 2 million undocumented Afghans in the Islamic Republic of Iran.
UNHCR has maintained an uninterrupted presence in the country for 35 years, and works in close coordination with its main government counterpart the Bureau for Aliens and Foreign Immigrants' Affairs BAFIA to provide protection and assistance to Afghan and Iraqi refugees throughout the Islamic Republic of Iran.
(Source: UNHCR)